Print Friendly Version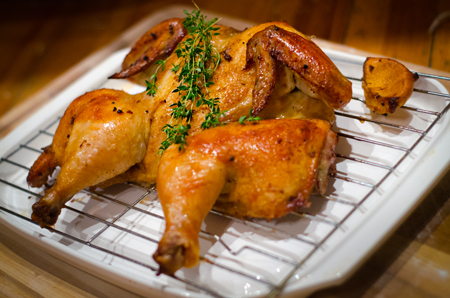 photograph by Jeffrey Placzek
~ spatchcock chicken ~
My friend Shelly introduced me to the idea of cooking a "spatchcock" or "butterflied" chicken at home. This method of cooking a chicken is so amazing, I'm quite sure we'll never go back to the old way of roasting a chicken again. The poultry cooks more evenly and much faster, resulting in a juicier, more flavorful bird. Try it and see for yourself.
Jeff and I made up the marinade and he did the rest while I was enjoying a creativity night over at my friend Clare's studio. This is, hands down, the best roasted chicken we've ever made!
To Spatchcock a Chicken:
Using a sharp cooking shears, remove the backbone of the chicken. (save this for making poultry stock.) Flip the chicken over and press down on the breastbone until the chicken cracks and lays flat.
Place bird in a large ziplock bag. Squeeze citrus juice all over bird. A combination of orange, lemon and lime is amazing. Add olive oil, salt, pepper, and freshly pressed garlic. Seal bag and allow to marinate for 3-24 hours.
Place chicken on a cooking rack over a jellyroll pan, roasting the citrus peels alongside the chicken. Roast at 375 degrees F for 50 minutes or until juices run clear.
Remember to save the bones for chicken stock.
Enjoy!
~Melissa
You may enjoy these related posts: