Print Friendly Version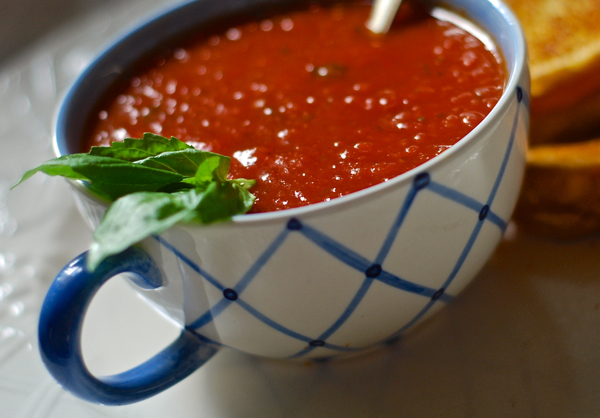 ~ Tearoom Tomato Basil Bisque ~
We LOVE tomato soup in our house. As the beginning of a meal or to dip gooey grilled cheese sandwiches into, it's one of our favorites. Above is my riff on the tomato basil bisque we use to serve at "The Tale of Two Sisters Tearoom" here in Red Wing. I like it because it's easy to make, light, and absolutely delicious.
1/4 cup unsalted butter
6 Tablespoons sugar
1 cup chopped onion
1/2 teaspoon baking soda
2 (32 oz.) cans diced tomatoes
1/4 cup chopped, fresh basil
18 oz. chicken broth (undiluted)
cream or greek yogurt, if desired
salt and freshly ground black pepper to taste
Saute onions and sugar in butter until translucent. Add baking soda. Add tomatoes and chicken broth and simmer for one hour. Add the chopped basil during the last 10 minutes of cooking. In small batches, process in a food processor until just slightly lumpy. You can add heated cream to the hot tomato mixture if desired. DO NOT BOIL.
This lovely soup can be made without the addition of cream. I think it's just as good, if not better, without it. A good way to add creaminess to this soup without all the fat and calories, is to add a dollop of Greek yogurt just prior to serving. The tanginess of the yogurt is a nice contrast to the sweet soup and basil.
~ A Little Lunch's Tomato Bisque ~
from one of my favorite little cookbooks…
If my house were on fire… these are the recipes I'd take!
by ~ Lori Powell Gordon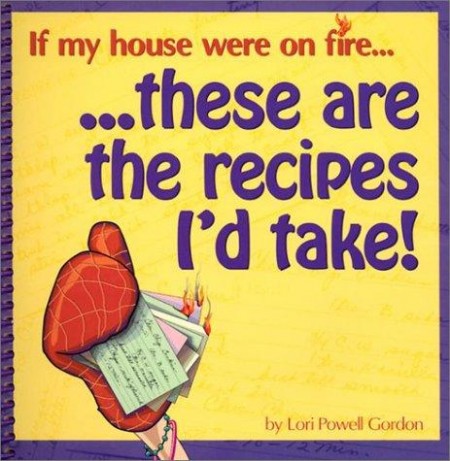 "A very long time ago, back when Savories of Stillwater, Minnesota (a great little restaurant), was called A Little Lunch, they published their tomato bisque recipe in the paper. Aren't you glad I wrote it down? However, it is a little rich. If your objective is to kill yourself with a slow cardiac strangle-hold, make it this way. If not, tone it down with 2 Tablespoons of olive oil instead of 2/3 cup butter, and use milk or half & half in place of the cream. Even I have to draw the line somewhere…and some of you didn't even think I had a line. Shame on you!" ~Lori Powell Gordon
I have made the fully loaded version of this soup for special occasions, and it's WONDERFUL…but Lori is right…very, very rich.
3/4 cup chopped onions
2/3 cup butter
3/4 teaspoon dill seed
1 teaspoon dill weed
1 teaspoon oregano
1/4 cup flour
3 cups chicken stock, warmed
4 cups canned tomatoes
1 and 1/2 teaspoons salt
1/2 teaspoon pepper
1/4 cup chopped, fresh parsley
1/4 cup honey
1 cup cream
1/2 cup half & half
Saute onions in oil or butter with dill and oregano. Add flour and stir to make a roux. After the flour is somewhat browned, Slowly stir in the warmed stock (the stock is warmed to prevent lumpiness.) Add tomatoes, salt and pepper. Simmer 15 minutes. Add parsley, honey, cream, and half & half (or milk, for lighter version.) Heat, but DO NOT BOIL.
Enjoy!
~Melissa
You may enjoy these related posts: