Print Friendly Version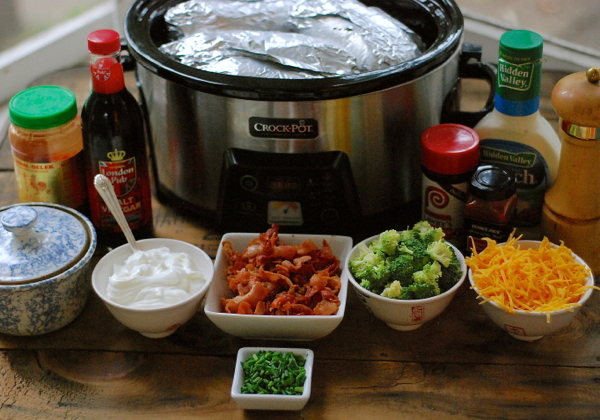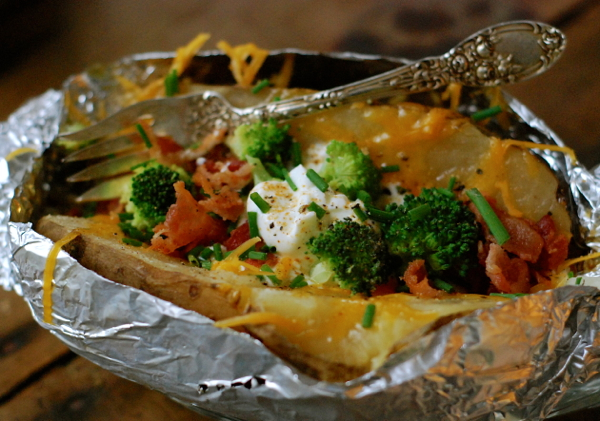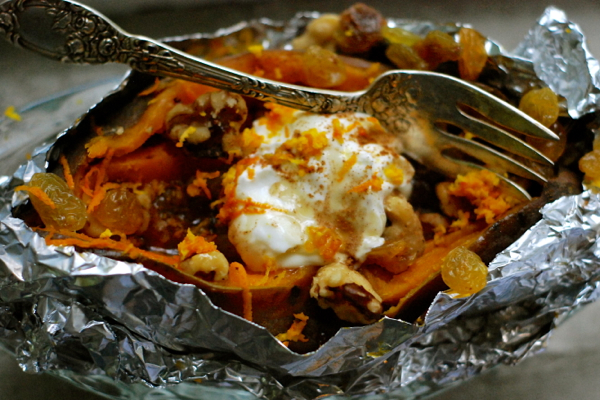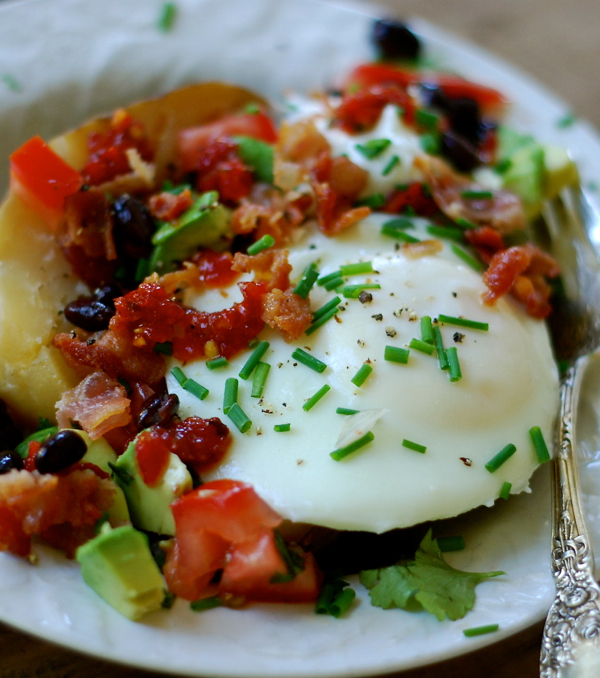 The slow cooker "bar" recipes are so fun to create and enjoy with friends and family!
This baked potato bar was a wonderful addition to our grilled steak dinner a couple nights ago. Guests had a great time topping their potatoes with their favorite accoutrements.
I made big "baker" russets and big sweet potatoes. Both were a hit!
We had a few of the big russets left over the next morning, so I decided to make Fiesta Breakfast Baked Potatoes when we got up. That got me thinking. Because it takes 8 to 10 hours to cook these slow cooker baked potatoes, you could easily cook them in the slow cooker over night! The next morning, place condiments for the baked potatoes around the slow cooker and make everyone an egg in whatever style they choose. I made mine basted, but poached, sunny side up, or scrambled would be yummy too! If you don't like the idea of making them Mexican-style, how about Baked Potatoes Benedict? (ham, eggs, Hollandaise sauce…) The possibilities are endless!
for the slow cooker baked potatoes:
8 to 10 large russets and/or sweet potatoes
olive oil for rubbing
salt for sprinkling
8 to 10 large squares of aluminum foil
Wash and scrub potatoes until clean. Rinse and dry well. Prick each potato several times with a sharp knife or fork.Rub each potato with olive oil and sprinkle each with a little salt. Wrap each potato in a square of aluminum foil. Place as many potatoes as you can in an 8 quart Crock Pot/slow cooker. Cover and cook on LOW setting for 8 to 10 hours. Once done, potatoes can sit in slow cooker on the WARM setting for up to 1 hour.
russet potato topping suggestions:
butter
steamed broccoli florets
sour cream/plain greek yogurt
fried bacon, crumbled
salt and pepper
seasoned salt
shredded cheddar cheese (or your favorite)
ranch dressing
snipped chives
smoked paprika
salsa
pesto
spaghetti sauce
mini pepperonis
sweet potato/yam topping suggestions:
honey butter
maple syrup
brown sugar
sour cream
walnuts
raisins/sultanas
cinnamon or pumpkin pie spice
crumbled gingersnaps
orange zest
fiesta breakfast baked potato suggestions:
(make the potatoes in the slow cooker over night…)
butter
bacon, pulled pork, ground beef taco meat or carnitas
salt and pepper
eggs cooked your favorite way
shredded cheese
crumbled chevre
canned black beans, rinsed and drained very well
pico de gallo
sambal oelek
salsa verde
snipped chives
chopped, perfectly ripe avocado
lime wedges for squeezing over
garlic powder
chili powder
cumin
Have fun!
~Melissa
You may enjoy these related posts: