Print Friendly Version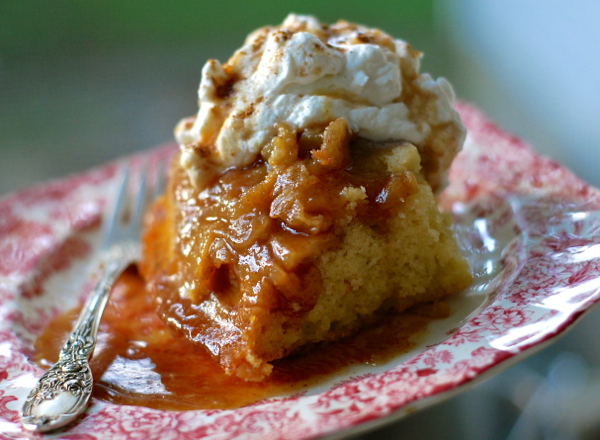 We're in the throes of apple baking! So many recipes, so little time. Here's a wonderful, fairly easy to prepare, favorite. It's delicious with cinnamon ice cream! I just love the name. So pretty!
~ preheat oven to 350 degrees F. ~
for the apple filling/syrup:
2 and 1/2 lb. peeled, cored, sliced apples (you can use some quince, plum and pear too)
3 Tablespoons unsalted butter
3/4 cup dark brown sugar, packed
1 Tablespoon apple cider vinegar
1 teaspoon cinnamon
1/2 teaspoon nutmeg OR pumpkin pie spice
1/2 teaspoon ginger
3 bay leaves
Peel*, core and pit fruit. Cut into uniform wedges. Place in a large pot with butter, brown sugar, vinegar, cinnamon, nutmeg, ginger and bay leaves. Bring to a boil. Reduce to a gentle simmer and cover pot. Simmer apples until hot and tender. Remove from heat and drain fruit. Reserve liquid and place in a glass jar with a tight fitting lid, once cool. Store liquid in fridge until ready to serve.
for the cake/crust:
3/4 cup butter + 2 Tablespoons
3/4 cup sugar
4 large eggs, lightly beaten
1 and 3/4 cup all purpose flour
1 teaspoon baking powder
1/2 teaspoon baking soda
In a large bowl, cream butter and sugar until fluffy. Add eggs, beat well. Fold in flour and other dry ingredients until everything is uniform and moist.
for the whiskey cream:
2 cups heavy whipping cream
3 Tablespoons powdered sugar
1 Tablespoon pure vanilla extract
6 Tablespoons whiskey or bourbon
Place all ingredients in the bowl of a counter top mixer. Using the whisk attachment, whip until stiff peaks form. Place in a container with a tight fitting lid and store in fridge until ready to use.
Putting the pudding together:
Place the fruit, without the stewing juices, into a buttered, deep dish, glass pie plate. Top with the cake batter. Bake on center rack in preheated oven for 40 to 45 minutes, or until crust is golden brown and a knife inserted into center of dessert comes out clean. Serve warm or at room temperature by scooping out portions into serving bowls so the apple filling is on top. Dollop some whiskey cream over the top of each portion, and drizzle each with a little of the reserved stewing liquid/syrup. Sprinkle with a little cinnamon for garnish. This dessert can be stored, covered in refrigerator, for up 7 days.
*note: plums do not need to be peeled prior to making this
Enjoy!
~Melissa
You may enjoy these related posts: