Print Friendly Version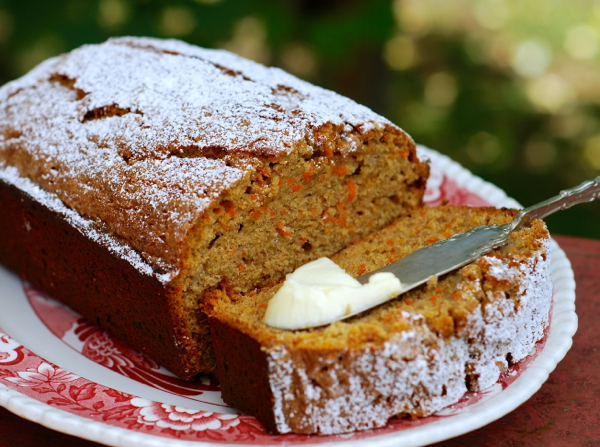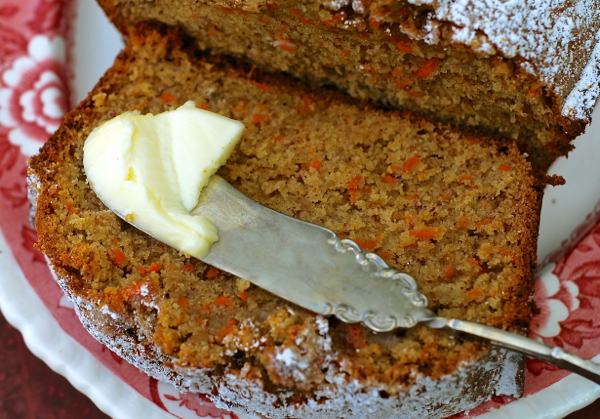 Are you ready for this? It's soooooo good! My new favorite treat to enjoy with my afternoon cup of tea! This little loaf is truly the best of both worlds… Carrot cake flavors in an easy, delicious banana bread. Mmmmmmmm. We like this either sprinkled with powdered sugar or drizzled with the same cinnamon milk icing that I put on my apple brownies. For the icing recipe click HERE.
~ preheat oven to 350 degrees F. ~
2 cups all purpose flour
1 teaspoon baking soda
1/2 teaspoon salt
1 and 1/2 teaspoons cinnamon
1/4 teaspoon nutmeg
1/4 teaspoon ground ginger
1/8 teaspoon ground cloves
1 scant cup mashed, ripe bananas
2 Tablespoons orange marmalade OR apricot preserves
1 cup brown sugar
2 large eggs, lightly beaten
3/4 cup vegetable oil OR melted butter
1 cup finely grated carrots
1/2 cup chopped pecans (optional)
Generously butter a 9×5 loaf pan.
Sift together flour, baking soda, salt, cinnamon, nutmeg, ginger, and cloves. Set aside. In another bowl, combine bananas, marmalade, brown sugar, eggs, and oil. Mix wet and dry ingredients together and stir just until everything is evenly moistened. Fold in carrots and optional nuts. Spread batter evenly into prepared loaf pan. Bake in preheated oven for 55 to 60 minutes or until a wooden skewer inserted into the center of the loaf comes out with only a few moist crumbs on it.
Cool loaf for 15 minutes in the pan. Loosen edges with a sharp knife and gently unmold onto a cooling rack. Cool completely before sprinkling with powdered sugar and slicing.
Enjoy!
~Melissa
You may enjoy these related posts: