Print Friendly Version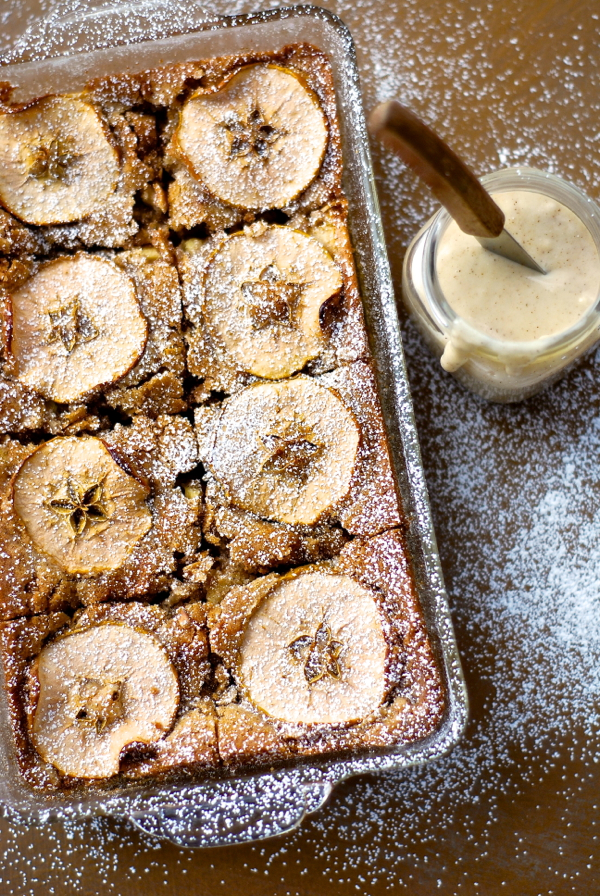 I'm working on photos, recipes and illustrations in my studio today, and looking forward to getting a bunch of stuff done.  Before I do that, though, I just had to stop by and drop off this recipe for you. These turned out so wonderful, and I'm enjoying one with my morning cup of Assam as I write this. A fun twist on the classic, chocolate brownie….Country Apple Brownies! The Cinnamon Milk Icing on these takes them over the top. They're chewy and perfect! Well, just try them and see….
for 8 apple brownies:
preheat oven to 350 degrees F.
1 stick butter, melted and cooled
1 cup all-purpose flour
1 teaspoon cinnamon
1 teaspoon nutmeg
1 teaspoon salt
1/2 teaspoon baking powder
1/2 teaspoon baking soda
1 cup sugar
1 large egg
2 medium size sweet apples, peeled and cubed into 1/2 inch cubes (plus 8 thin apple slices for decoration)
1 teaspoon pure almond extract
powdered sugar
Generously butter a 6 x 10 inch glass baking pan. In a large mixing bowl, mix the flour, cinnamon, nutmeg, salt baking powder and soda.
In a separate bowl, using a wire whisk, mix the sugar, melted butter, egg and almond extract until pale. Add wet ingredients to dry ingredients and stir until evenly combined. Add apple chunks and stir just to combine and evenly distribute.
Spread the brownie dough into the buttered baking dish. Place an apple slice on top of each brownie (there will be 8 once they're cut.)
Bake for 45 to 55 minutes, or until golden and just set. Don't over-bake. Cool in pan on a wire rack for 30 minutes before cutting into 8 even bars. Sprinkle with a little powdered sugar.  These will keep in an air-tight container for 5 days.
for the Cinnamon Milk Icing:
 1/2 cup cream cheese frosting
2 to 3 Tablespoons milk
1 teaspoon cinnamon
Combine all until smooth. Drizzle over the apple brownies. Store the rest in the refrigerator.
Enjoy!
~Melissa
You may enjoy these related posts: