Print Friendly Version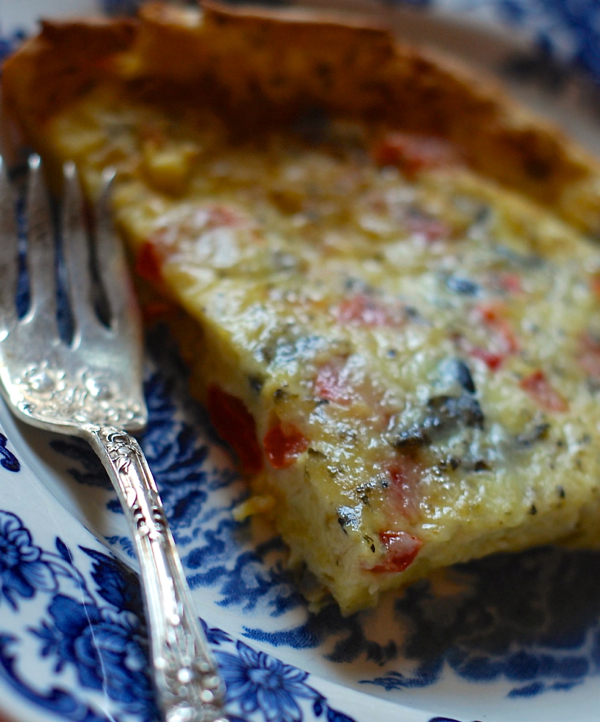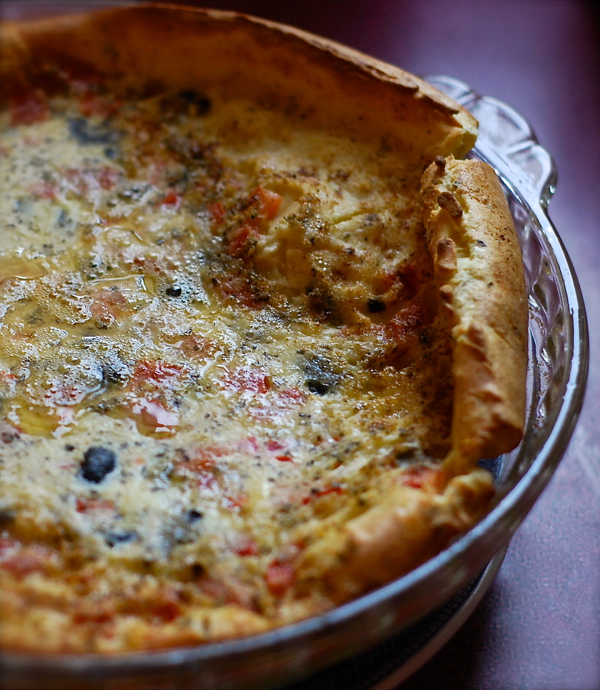 After receiving such a great response to my recipe post for this sweet Dutch baby with lemon syrup, I decided it was time to develop a savory version. Soooo, this past weekend I got to work creating a new recipe and this is what I came up with. This baby is the love child of a hearty, cheesy quiche and a light, fluffy souffle. It's perfect Sunday morning-reading the newspaper- doing the crossword and sharing a cup of coffee-fare 🙂 It freezes and re-heats well. One Dutch baby will feed 4 people. Serve with fresh fruit.
~ preheat oven to 425 degrees F. ~
3 Tablespoons butter
3 large eggs
1/4 cup milk
1/4 cup cream
1/2 cup all-purpose flour (I used gluten free)
1 teaspoon smoked paprika
1/2 teaspoon garlic powder
1/2 teaspoon onion powder
1/2 teaspoon Italian seasoning
salt and pepper
1/2 cup shredded Mozzarella or Swiss cheese
1/4 cup chopped black or green olives
1/4 cup chopped red bell pepper
1/4 cup seeded, chopped Roma tomato
Butter a deep dish pie plate with the 3 Tablespoons butter. Place in oven to melt the butter while you prepare the batter.
Whisk eggs with milk, cream and seasonings. Gradually whisk in flour just until combined. Stir in veggies and shredded cheese.
Pour into heated, prepared pan. Don't stir. Return pan to oven. Bake until puffed and golden and just until the middle is set (approximately 20 minutes.)
Remove from oven. Slice and serve immediately.
Enjoy!
~Melissa
You may enjoy these related posts: