Print Friendly Version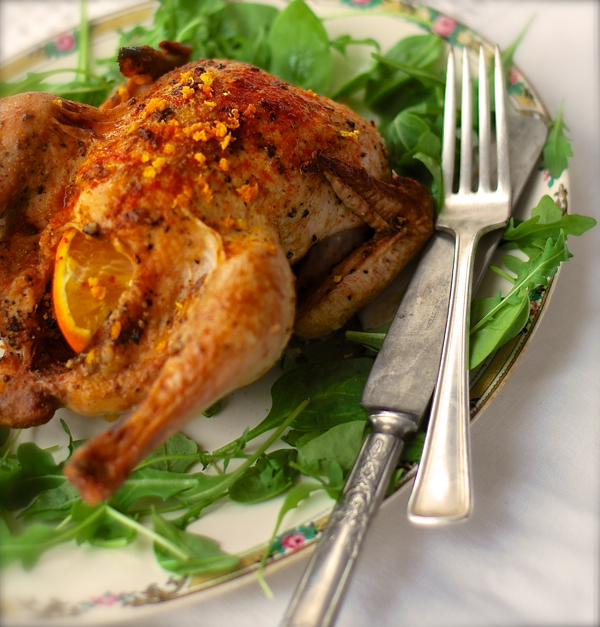 I have three bags of chicken and turkey bones in the freezer so I'm making another pot of soup. This time, chicken noodle with the wide, yummy egg noodles. Jeff and Gracie demolished the last batch. I forgot to get carrots when we were at the grocery store yesterday, so I'm bundling up and walking up to our corner market for that and some good bread for sammys. I think I'll take my camera and wide angle lens and see if I can finally capture some winter wonderland shots to share with you.
Jeff made these delicious roasted cornish game hens for a fancy candlelight dinner at home last week, and I just love how they turned out. When he told me how he made them I was surprised at the very simple recipe. I had to share it with you. This is so easy and so elegant. Perfect for a company dinner or a romantic dinner for two. I love Gewurtztraminer wine with game birds, but a dry champagne or dry riesling would pair nicely with this too.
4 servings
 heat oven to 350 degrees F
4 smallish Cornish game hens (fresh or completely thawed)
salt
pepper
1 stick butter
1 orange
Place a quarter of an unpeeled orange in the cavity of each bird and then place the hens in a roasting pan. Season with salt and pepper. Place a stick of butter in the roasting pan alongside the birds. Roast, uncovered, in oven for about an hour, basting with the melted butter in the pan every 15 minutes. The birds are done when a meat thermometer inserted in the thickest part of the bird reads 170 degrees. Serve with Browned Butter Mashed Potatoes, and Fancy Schmancy Arugula Salad or Jupiter's Orange Salad. Garnish birds with a little orange zest if you wish.
Enjoy!
~Melissa
You may enjoy these related posts: