Print Friendly Version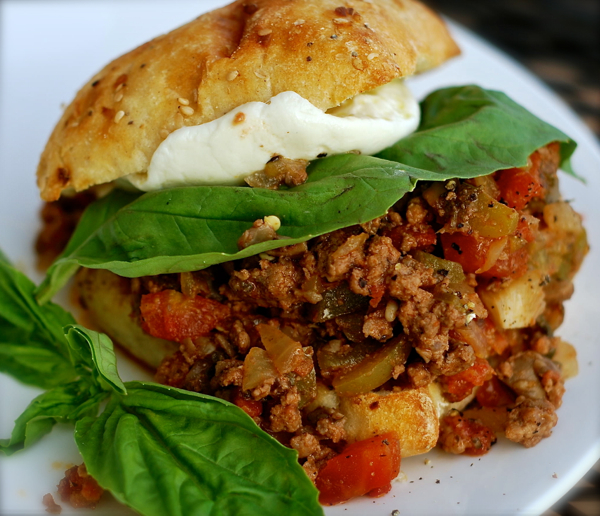 While vacationing on the gorgeous north shore of Lake Superior this past week, we ate at a lot of our favorite restaurants and we did some Crock Pot cooking too. We like to do a little of both so I can continue to be creative in the kitchen in a leisurely manner, even while I'm away, and… we save some money this way too. Win, win!
Here's one of the recipes I made and it turned out SO good. The Messy Giuseppe is Sloppy Joe's exotic Italian cousin 😉
You can make this via slow cooker method, or on your stove top as you would Sloppy Joes. Both ways are easy and fabulous.
Slow Cooker Method:
2 Tablespoons olive oil
1 lb. extra lean ground beef
1 green bell pepper, chopped
1 large onion, chopped
8 oz. baby bella mushrooms, chopped
1 to 2 large garlic cloves, minced
1/2 teaspoon cayenne pepper
2 Tablespoons Ponzu sauce
a few grinds of fresh black pepper
1/2 cup dry red or white wine
1/2 cup low sodium beef stock
2 Tablespoons Worcestershire sauce
14 oz. can petite diced tomatoes (undrained)
1/4 cup fresh parsley, chopped
4 Tablespoons butter or olive oil
fresh basil leaves
freshly grated Parmesan cheese
6 Ciabatta rolls
garlic powder
1 ball fresh Mozzarella cheese
Brown beef, bell pepper, onion and mushrooms in the olive oil. Drain off any excess moisture. Place in a 6 to 7 quart crock pot along with the garlic, cayenne, ponzu, black pepper, wine, stock, Worcestershire, tomatoes and parsley. Cover slow cooker and cook on low for 6 to 8 hours. You may have to remove the cover at the end of the cooking time and allow the excess moisture to boil off so the mixture can get thicker. OR, if you're in a hurry,… just add 1/4 cup tomato paste at the end and mix it in well.
Butter both halves of all the Ciabatta rolls (or drizzle each half with some olive oil.) Place open rolls on a cookie sheet.  Sprinkle a little garlic powder over roll halves. On the top half of each roll, place a couple slices of fresh Mozzarella. Place under a broiler for about one minute or just until the mozzarella is melted and the rolls are a light golden brown.
Place a roll on each person's plate. Top with some of the Messy Giuseppe meat mixture. Sprinkle some fresh Parmesan over the top, followed by a couple large, fresh basil leaves. Place Mozzarella bun halves on top and serve immediately.
Enjoy with a glass of vino!
~Melissa
You may enjoy these related posts: