Print Friendly Version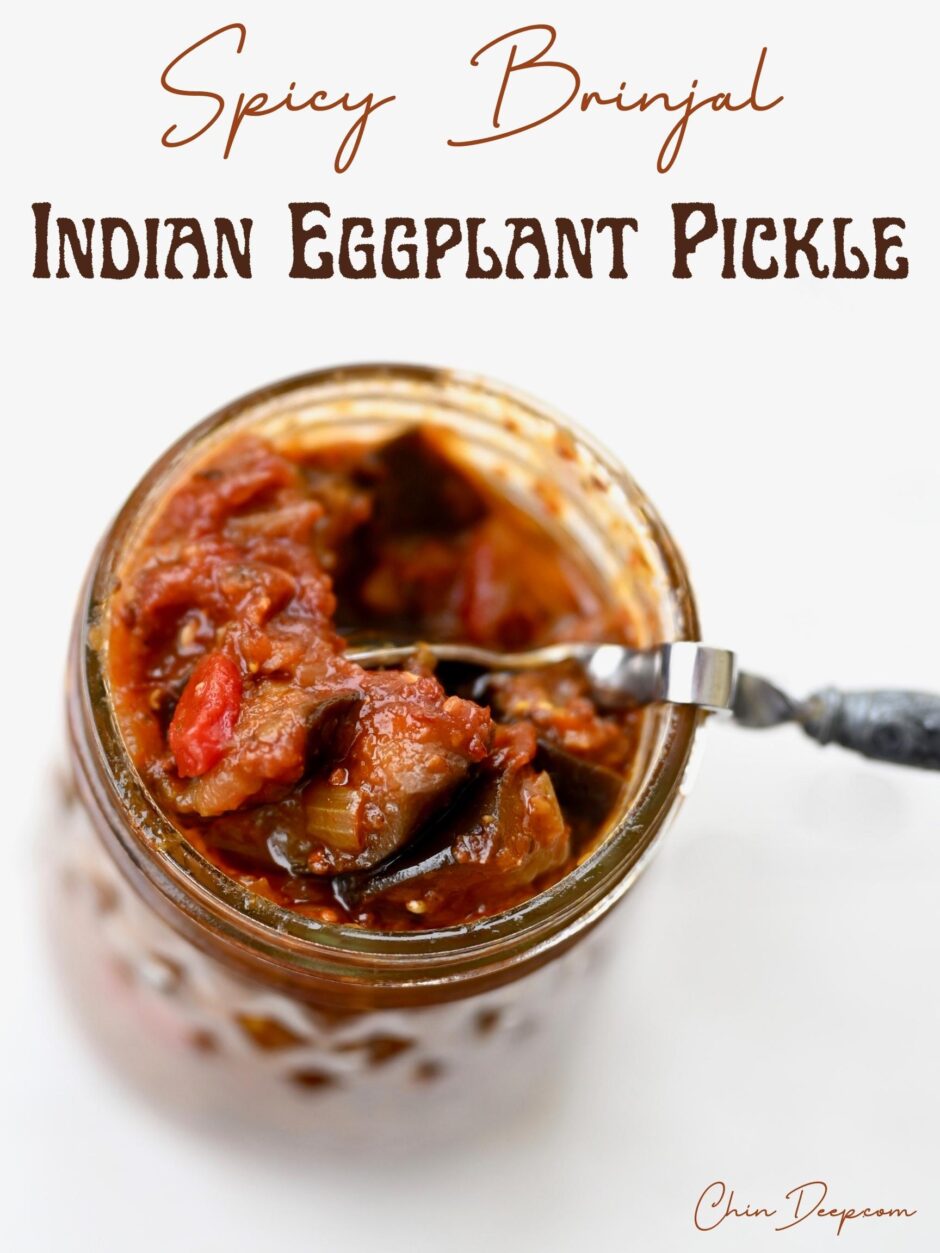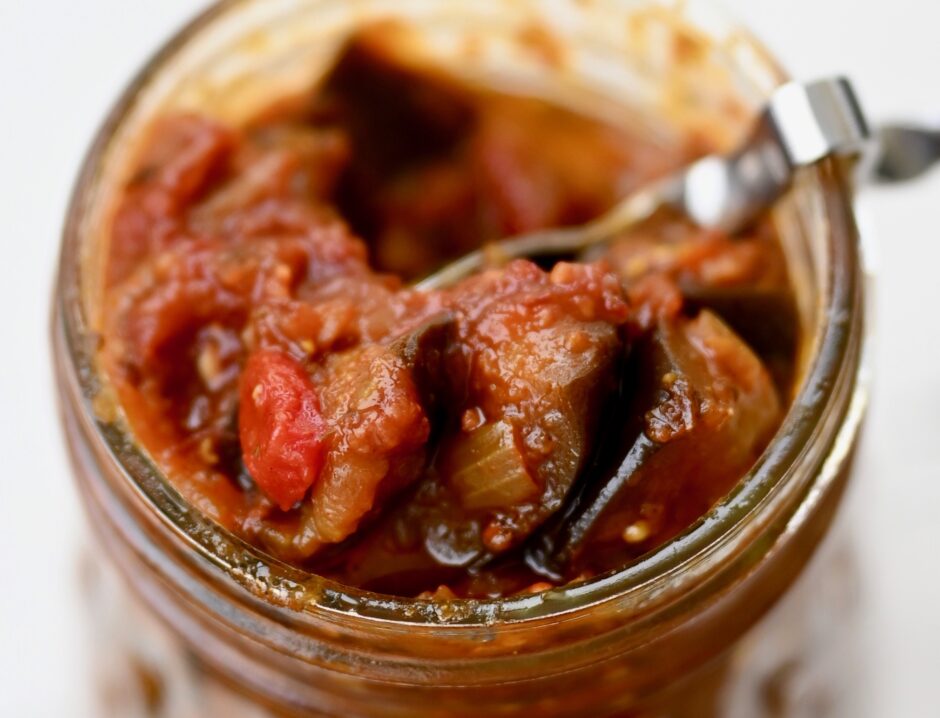 I've had pickled eggplant at different Indian and Italian restaurants. Recently I was reminded about it in this amazing novel I'm reading. The main character says it's on her list of "desert island" foods. I totally get that. First I thought about just ordering some pickled eggplant from Amazon, and then I thought, "Hey! Why not try making some?" So that's what I did and it turned out great. It's surprisingly easy to prepare, but it does call for quite a few ingredients. The up side is once you gather the ingredients and make it, you'll have approximately 4 pints of this deliciousness that will last a month in your refrigerator.
This condiment goes by different names, depending on where you are. Brinjal pickle, eggplant pickle, Indian eggplant relish, and aubergine chutney. Whatever you call it, it's awesome!
3 big eggplant (approximately 2 lb. total), cut into cubes
2 Tablespoons celery seed
2 Tablespoons salt
6 Tablespoons extra virgin olive oil
2 large yellow onions, chopped fine
10 oz. jar fire roasted sweet red pepper, drained
6 large garlic cloves, minced
3 Tablespoons fresh ginger, grated fine
7 chopped Medjool dates
2/3 cup brown sugar
2/3 cup apple cider vinegar
1/4 cup tamarind paste OR apricot jam, melted
1/4 cup grainy brown mustard (mild,not hot)
3 Tablespoons tomato paste
1 Tablespoon Worcestershire sauce
1 Tablespoon smoked paprika
2 teaspoons mild chili powder
1 teaspoon cumin
1 teaspoon turmeric
1 teaspoon garam masala
1/2 cup veggie stock (to deglaze pan as needed)
2 to 3 Tablespoons Huy Fong's chili garlic sauce OR Sambal Oelek, to taste
Place eggplant cubes in a colander in the sink. Sprinkle with the salt and toss to coat. Allow the eggplant to rest for an hour. Once the hour is up. rinse the eggplant and pat dry with paper towels, squeezing slightly to remove excess moisture.
Heat 2 Tablespoons of the oil in a Dutch oven. Once hot, add half of the eggplant and half of the celery seed. Reduce the heat to medium and saute until eggplant starts to get brown. Transfer to a big bowl. Repeat with 2 more Tablespoons of the oil, the rest of the eggplant, and rest of the celery seed. Transfer to plate. Deglaze pan with a little stock and add it to the eggplant in the bowl.
Add the last 2 Tablespoons oil to the empty Dutch oven. Once hot, add the onion. Cook until lightly golden and transparent. Add the garlic and cook an additional minute. Add the fire roasted red peppers, deglaze pan again, and then add the rest of the ingredients (except for the Huy Fong sauce which will go in at the very end.)
Simmer gently for 40 minutes with the lid on the pot slightly askew so some steam can escape.
Add hot sauce at end. Start with 1 Tablespoon and add more heat as desired. Stir it in well.
Spoon eggplant pickle into 4 (1 pint each) jars. This recipe makes approximately 4 pints.
Cool. Cover with tight fitting lids, and refrigerate for up to a month.
Enjoy!
~Melissa
You may enjoy these related posts: