Print Friendly Version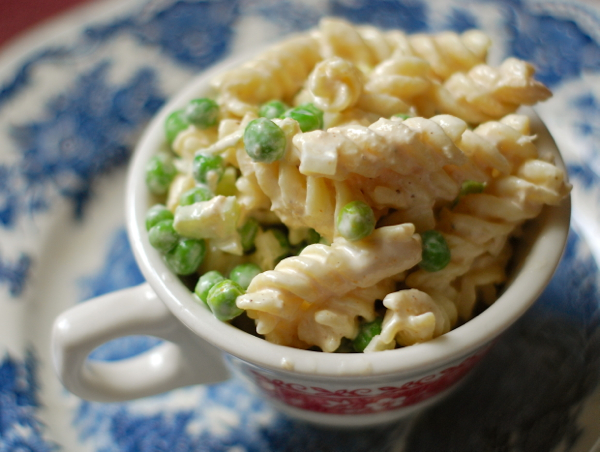 I remember the days when I could go shopping at Daytons/Marshall Field's and have lunch right there in the store. They had this wonderful lunch counter with tons of amazing soups, salads, and sandwiches. I've been collecting different Dayton's cookbooks and reminiscing. So many memories and so much nostalgia connected to these recipes! I wish those amazing Dayton's stores were still around! It's just not the same shopping on Amazon. Sigh.
The Twisted Tuna Pasta Salad is so simple and so good. I make cold pasta salads all year long, but this would be an especially good addition to a picnic!
This is the original recipe, exactly as it is found in the cookbook. It has to be served very cold, so make sure you consider the time it takes to chill if you'll be serving this to guests. It really is great just the way it is. Sometimes I add more mayonnaise and tuna than the recipe calls for, and I serve it with hot sauce and Old Bay seasoning if I'm in the mood for more spice. Try the original first and then tweak as needed to meet your specifications.
Note: At first the dressing will appear very milky and thin. Don't worry. The pasta absorbs most of the liquid and the dressing thickens as the salad chills.
for the dressing:
2 Tablespoons plus 1 teaspoon sugar
2 teaspoons salt
2 teaspoons coarsely ground black pepper
2 cups buttermilk
1/3 cup full fat mayonnaise
Prepare dressing by mixing all of the ingredients in a medium bowl. Whisk well. Cover, and place in refrigerator.
for the salad:
1 pound rotini pasta
1 (6 oz.) can water-packed tuna, drained well
1 cup chopped celery
1/3 cup chopped yellow onion
1 pound frozen peas, thawed and drained
Boil pasta in water until tender, yet firm. Drain well and place in serving bowl. Pour dressing over pasta and toss well. Add drained tuna, celery, onion, and peas to bowl with pasta. Toss well. Cover and chill until very cold and most of the dressing has been absorbed.
Makes 8 servings.
Enjoy!
~Melissa
You may enjoy these related posts: