Print Friendly Version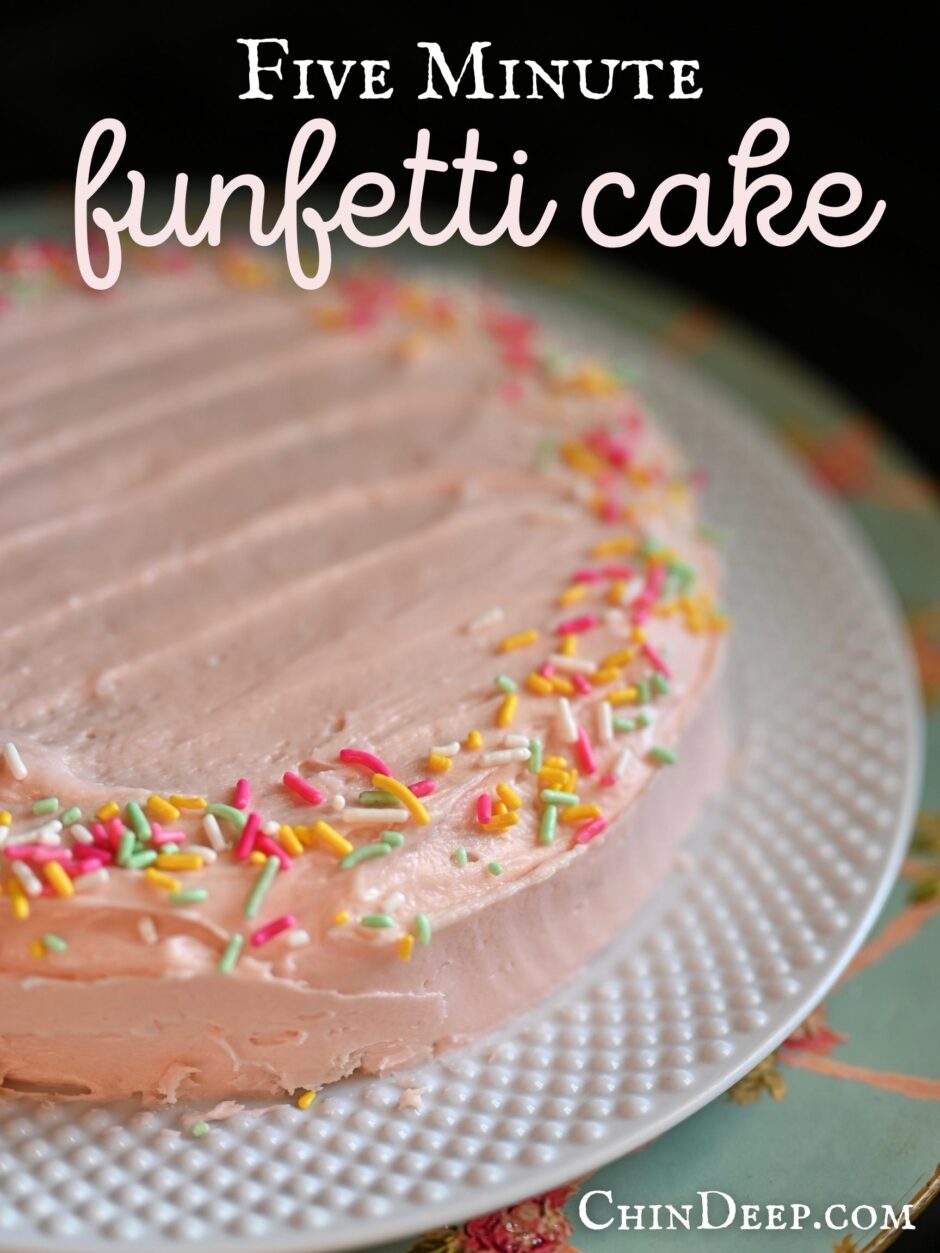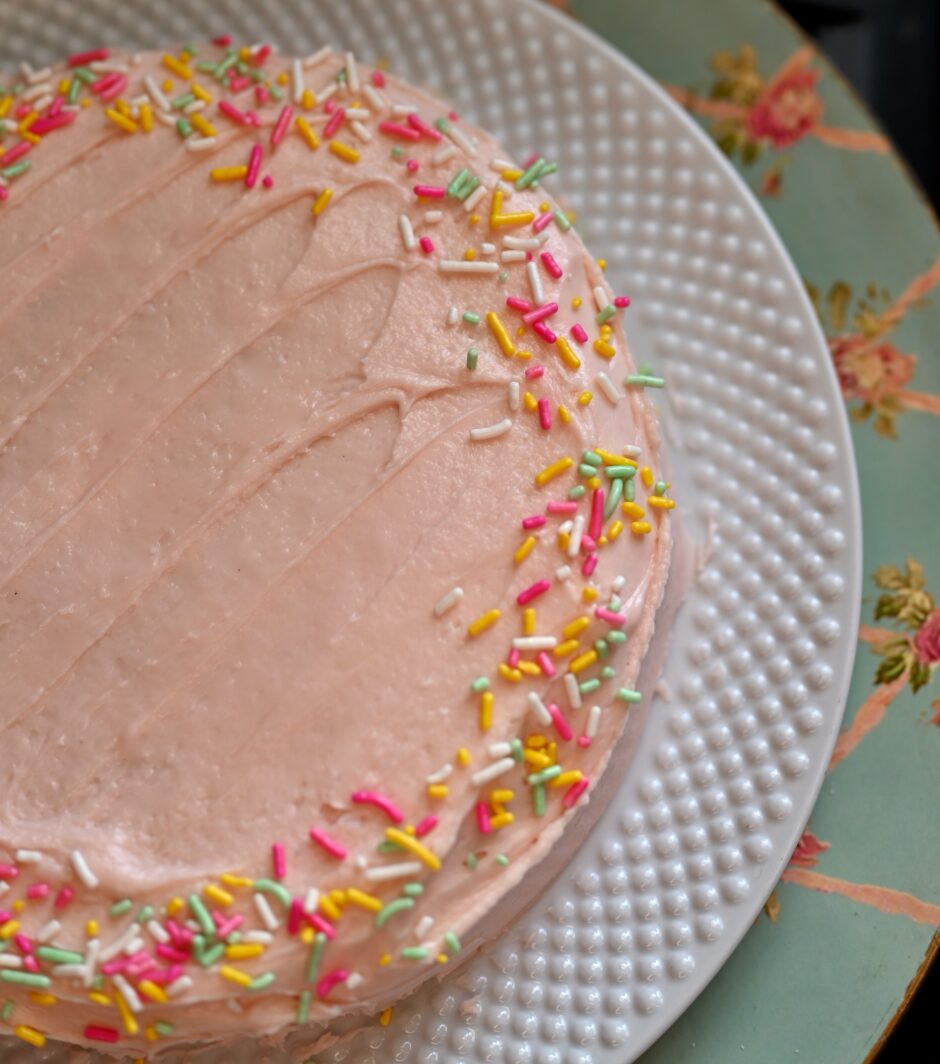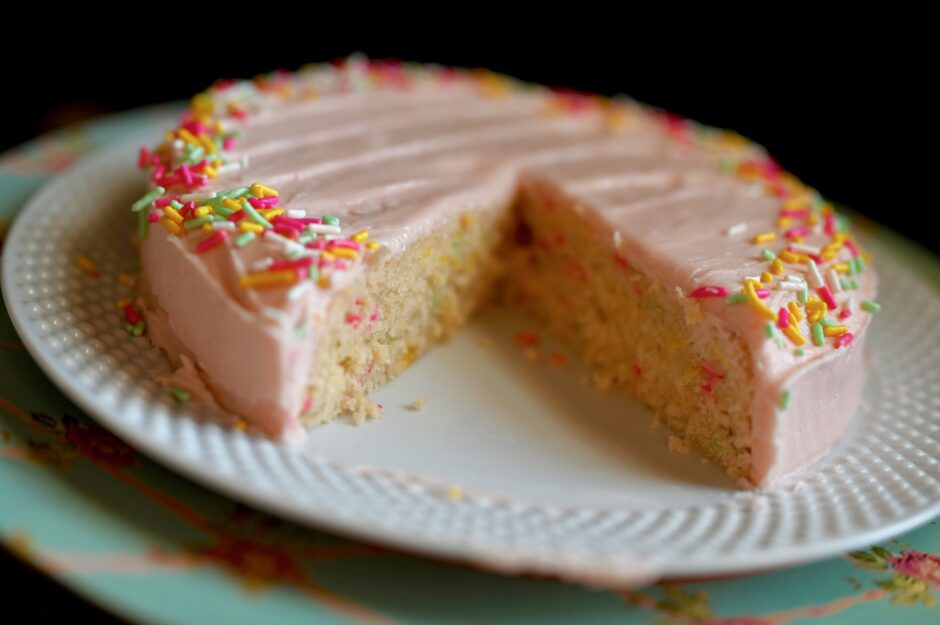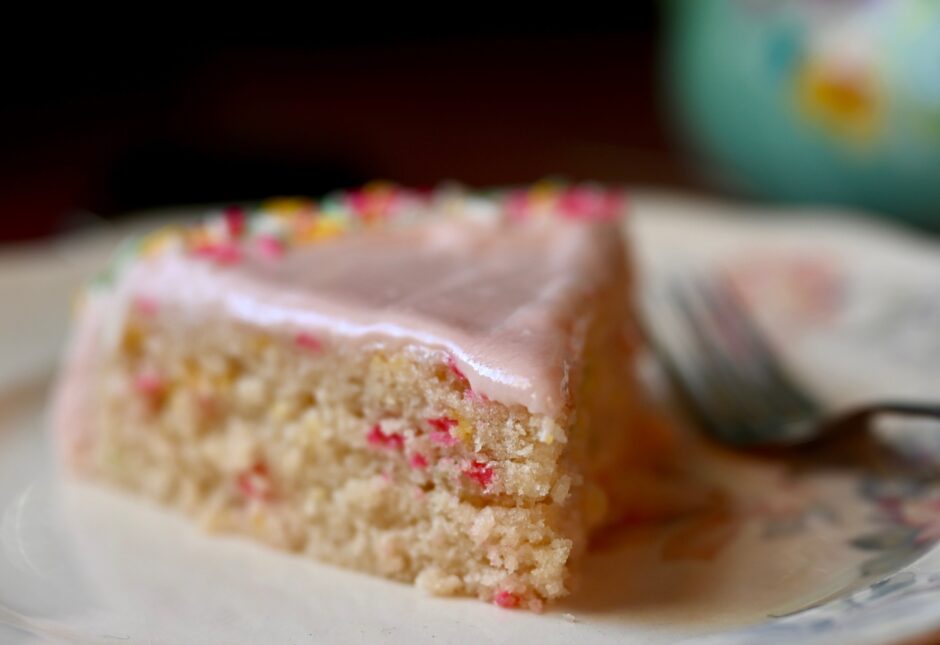 Five minute funfetti cake! It's true! You can make a cake in only 5 minutes in your microwave. I know it sounds too good to be true, but I decided to create a recipe for five minute microwave cake yesterday. I knew I didn't want to use a cake mix, and that I wanted it to be a simple, vanilla flavored cake with sprinkles and pale pink frosting. And here it is!
This cake is super easy, super moist, and it's vegan! Yay!
So if you need a birthday cake or other celebration cake at a moment's notice, this is the cake for you. Feel free to use almond extract in place of vanilla if that sounds good to you. I love almond cake, but yesterday I was in the mood for vanilla.
Five minute birthday cake, five minute tea cake, five minute congratulations cake… Whatever you might need a cake for, now you can make it really fast without sacrificing flavor, or spending an entire day in the kithen.
One trick that makes this process go even faster is to put your cake in the freezer to cool it while you make your frosting. I did this and it took about 15 minutes for it to be completely chilled and ready to frost.
So five minutes to cook, and 15 minutes before you can frost it. Not too shabby.
Okay, here we go…
for the cake:
6 Tablespoons butter (I used organic Earth Balance)
1/2 cup sugar
1/4 cup cream cheese (I used So Delicious, plain vegan cream cheese)
3/4 cup milk (I used plain, unsweetened soy milk)
1 Tablespoon lemon juice or white vinegar
1 cup flour + 2 Tablespoons
2 teaspoons baking powder
1 teaspoon pure vanilla extract
1/2 teaspoon salt
2 Tablespoons rainbow sprinkles
I used a Silpat cake pan for this which doesn't require any greasing, but if you don't have one don't worry. Just butter a microwave-safe, glass dish or square glass cake pan and use that.
Place all cake ingredients in a large mixing bowl and mix just until combined and smooth. Don't overmix. Pour into pan. Place in microwave and cook for 5 minutes. Some microwaves may require a minute or two more. Watch cake closely. It's done when a toothpick inserted into the center of the cake comes out clean.
Place cake in freezer or refrigerator to chill while you make your frosting.
for the frosting:
1/4 cup cream cheese (I used So Delicious brand, plain cream cheese), room temperature
1/4 cup butter (I used organic Earth balance), room temperature
2 cups powdered sugar (more if needed)
2 teaspoons pure vanilla extract
1 drop red food coloring
Place all ingredients in a medium mixing bowl and whisk until smooth and fluffy. Add more powdered sugar if it doesn't seem thick and fluffy enough.
Remove cake from pan and place on a pretty plate.
Frost completely cooled cake and decorate edge with more sprinkles (or decorate the cake however you like!) 🙂
Enjoy!
~Melissa
You may enjoy these related posts: