Print Friendly Version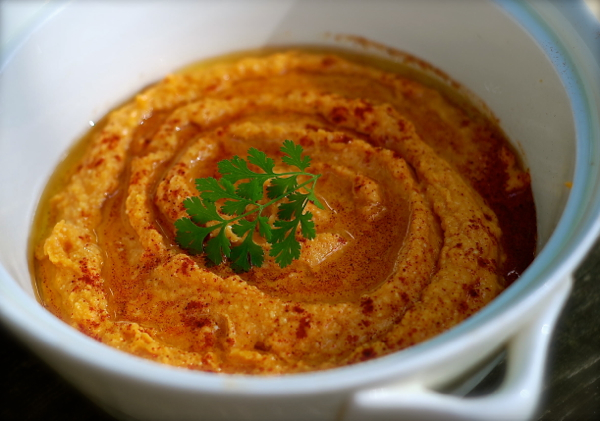 Looking for a new twist on the classic hummus? We eat SO much hummus that we're always looking for new ways to make it interesting. Here's what we made when we were craving spicy!
1 (15 oz.) can chickpeas, rinsed and drained well
1/2 cup grated Parmesan cheese
1/3 cup extra virgin olive oil
1/4 cup Sriracha hot sauce
lemon or lime juice to thin as needed
olive oil and chipotle powder or smoked paprika for serving
a sprig of parsley or cilantro for garnish
Place chickpeas, Parmesan, olive oil and Sriracha in the bowl of a food processor and puree until smooth adding lemon or lime juice and a little water to thin the hummus to desired consistency. Continue pureeing until very smooth.
Transfer to a serving bowl. Make a swirl in the top of the hummus with a spoon. Pour a drizzle of extra virgin olive oil over the top so it goes into the swirl. Sprinkle a little chipotle powder/smoked paprika over the top. Garnish with a sprig of parsley or cilantro, if desired.
Enjoy with French bread, crackers and/or raw vegetables for dipping.
~Melissa
You may enjoy these related posts: