Print Friendly Version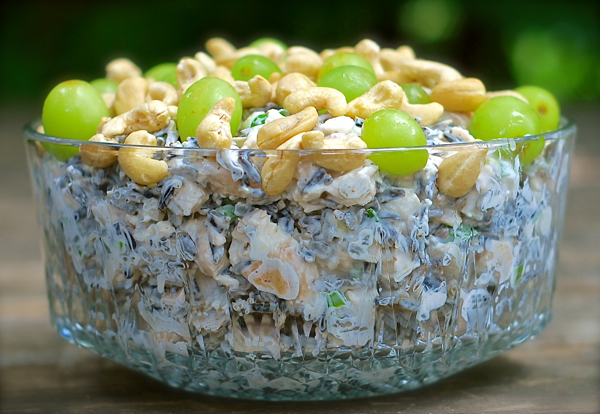 ~Byerly's wild rice chicken salad~
The deli counter at Byerly's grocery store is a favorite lunch spot for a lot of people I know.  This salad is what they return for. It's creamy, sweet, crunchy, and filling. It's full of  wonderful flavors: earthy wild rice, fragrant tarragon, crunchy cashews, and green grapes. What can I say? It's fabulous. I made a big batch of this and it disappeared in two days. It's elegant enough to serve for a fancy lunch and hearty enough to serve to the men in your life. This is one of my hubby's favorites.
*Note: If you don't enjoy the flavor of tarragon, use oregano.
2/3 cup real mayonnaise, (I use Hellman's)
1/3 cup whole milk
2 Tablespoons fresh lemon juice
1/2 teaspoon dried *tarragon
3 cups cubed chicken
3 cups cooked wild rice
1/3 cup finely sliced green onions plus a little of the green tops
1 (8 oz. can) water chestnuts, drained well and chopped
salt, to taste
1/2 teaspoon freshly ground black pepper
1 cup cashews
1 cup green grapes, halved
In a medium bowl, blend mayonnaise, milk, lemon juice and tarragon with a wire whisk until completely combined. Set aside. In a large mixing bowl, combine the chicken, rice, onion, water chestnuts, salt and pepper. Stir in the mayonnaise mixture. Cover and refrigerate for 2-3 hours or until well-chilled.
To serve: place about a cup of the salad on each plate and top with some of the cashews and grapes.
Enjoy!
~Melissa
You may enjoy these related posts: