Print Friendly Version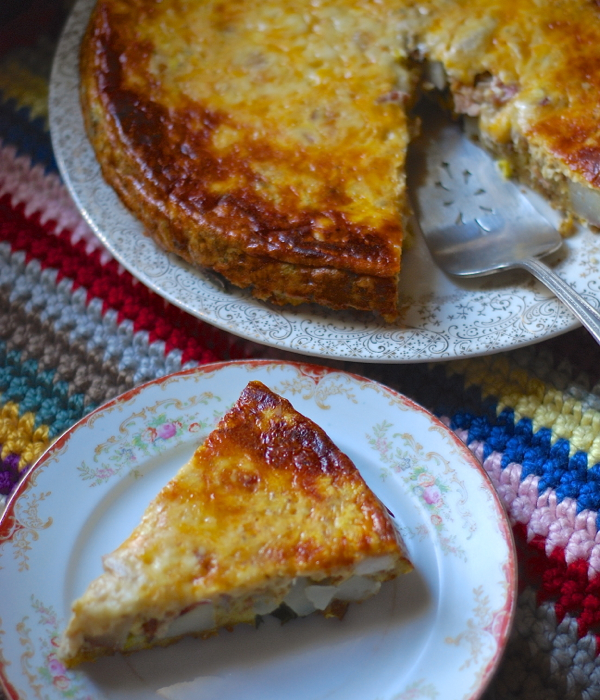 It's a winter wonderland in the Mississippi River Valley today… So far we've gotten nine inches of snow, and it's still coming down steadily. Big, white, puffy flakes. The snow plows are working over time, and we're all snuggled in after a little lunch outing an a trip to the market. We're going to watch THIS MOVIE, and I'm going to pick up where I left off crocheting the biggest ripple blanket ever… The Christmas tree lights are twinkling, candles are lit, and the teapot is singing…everything is right with the world.
Here's a yummy, easy recipe for a brunch bake. I used up some leftover chicken and some day old bread. This is a good recipe for using up what you have in the fridge…throw in your favorite veggies…and voila, breakfast is served.
preheat oven to 350 degrees F.
2 cups shredded cheese (I used a combination of swiss, cheddar-jack, and smoked gouda)
1 lb. shredded chicken or pork (or a pound of browned breakfast sausage or ground beef)
4 slices bacon, fried until crispy and crumbled
6 pieces sourdough or white bread, cubed
2 medium red potatoes, boiled or baked until soft, unpeeled and cubed
1 handful torn baby spinach
1/3 cup frozen corn (or zucchini, tomato, olives, shredded carrot…whatever you like!)
1/3 cup onion, coarse chopped
2 cloves garlic, minced
7 eggs
1 to 1 and 1/2 cups buttermilk
2 teaspoons seasoned salt
2 teaspoons dried thyme
1 teaspoon freshly ground black pepper
1 teaspoon smoked paprika
Line a 10 inch, deep-dish quiche pan with cooking parchment and spray with cooking spray…or…use a Demarle Grande mold (To find out more about Demarle/Silpat Cooking Supplies Click THIS LINK)
Shred cheese and place an even layer on the bottom of the pan. Continue layering with a pound of your choice of meat, bacon, then potatoes, spinach, onion, corn, garlic and then bread cubes. Mix eggs with buttermilk, salt, thyme, pepper and paprika. Pour over the ingredients in the pan and press with a spatula so the bread is completley submerged and soaked (start with the one cup of buttermilk and add the extra half cup if needed.)
Place on a baking sheet and bake for 45 to 60 minutes, or until browned, bubbly and completely set. Check half way through cooking time to make sure it's not browning too fast. If it is, cover with foil (or if using Demarle pan…a silpat sheet.) Continue cooking until done.
Allow to cool in pan for 10 minutes before unmolding onto a pretty platter and serving. This is wonderful with a side salad for a luncheon tea!
Enjoy!
~Melissa
You may enjoy these related posts: