Print Friendly Version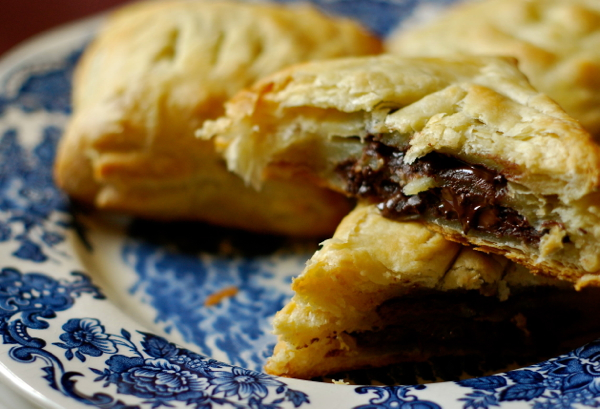 Spring has sprung and it's time for easy, delicious meals and treats that won't have you slaving over a hot stove for hours.
Here's one of my favorite weekend breakfast recipes. It's definitely not health food, but if you're looking for sweet, pretty and uncomplicated, you've come to the right place.
These are awesome with a cup of coffee, tea or a latte!
for 6 chocolate croissants:
~ preheat oven to 400 degrees F. ~
1 lb. frozen puff pastry dough, thawed according to package directions
approximately 1 and 1/2 cups semi sweet or dark chocolate chips
1 beaten egg white (optional)
Thaw puff pastry according to package directions and use dough immediately so it doesn't dry out. Unfold the sheets of pastry. (The Pepperidge Farm's brand that I use comes in two folded sheets.) When you unfold the pastry you'll see two fold lines on each sheet. Cut along these fold lines, using a sharp knife, to create 6 pastry strips. Place 2 Tablespoons of chocolate chips in the center of each pastry strip. Fold one of the sides of the pastry strip over the chips. Place another 2 Tablespoons of chocolate chips on the mound containing the chips and fold the other side over the top layer of chips. Seal edges very well (if your dough has begun to dry out you can use a little bit of water to help you seal the edges together.) Cut 3 little slits in the top of each croissant. Brush each croissant with a little bit of egg white (if you wish.) Place croissants, 1 inch apart, on a lightly oiled or buttered cookie sheet. Bake for 20 minutes or just until the croissants are hot and golden brown. Allow to cool a bit. Cut croissant on the diagonal (to make 2 little triangle halves.) Serve.
Enjoy!
~Melissa
You may enjoy these related posts: