Print Friendly Version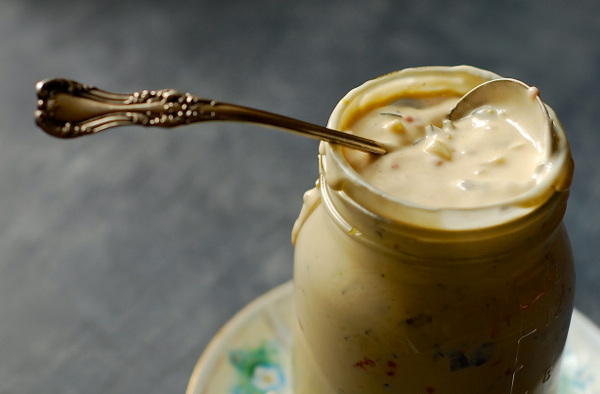 Most of you who visit me regularly know that I've been compiling a collection of homemade salad dressings over the last couple years. This collection now boasts 42 healthy homemade dressings, this being the 42nd. The collection is quite popular, and everyone who tries the dressings seem to love them and pass the link to the collection on to their friends. It's been shared and pinned thousands of times. There's nothing quite as powerful as word of mouth in advertising! 😉 I've created all of these dressings in my kitchen and tweaked them until, in my opinion, they were perfect. The only dressings on the list that aren't my original recipes are the Lowell Inn Salad Dressings and the one I am about to post.
I don't usually vent here on my blog, but reserve this space for happy, light subjects and recipes. I'm going to make an exception now because I feel I have something to say and I want to stand up for myself. If you don't want to listen to me, and just want to move on to the recipe, I completely understand. Just scroll down to the list of ingredients and ignore the next few paragraphs.
Let me start out by saying that I love to learn new things and I view every encounter with every human I meet as a learning experience. We all have our own areas of expertise, and everyone is a teacher in some capacity.
Someone recently contacted me via a blog comment on THIS salad dressing post. It's my own twist on the classic Thousand Island salad dressing. I love Thousand Island and grew up on the popular Marie's that can be found in the produce section of most grocery stores. I wanted to make a dressing based on the same flavor concept, but I thought it would be fun to give it a little zing, so I added Cajun seasoning and Sriracha hot sauce for spice.
The individual who contacted me about the recipe left a very rude, condescending note that basically said "I'm from the Thousand Islands area, and your dressing is nothing like the original. All Thousand Island salad dressing is is ketchup and mayonnaise. Please change the name of your dressing." I responded by saying I appreciated her sharing her opinion and that it made me laugh (mostly because I had never seen anyone get SO worked up over something as trivial as a salad dressing recipe, not because I wanted to make fun of her.) She responded with several, long, nasty letters and ultimately ended up contradicting herself by saying the Original recipe for this dressing is a "closely guarded secret".
So, I went online and found the original dressing recipe in about 5 seconds. It's printed HERE in this awesome blog post that includes some fun history facts as well, and HERE by an actual 1000 Islander. Note: there is NO ketchup in this recipe and it does indeed contain pickle relish, olives, and sweet bell pepper, just as my spicy version does. So, in the end, my recipe is more authentic than even I thought it was. Hmmmmm….
Oh well, enough drama. Thanks for listening to me rant. On with this fabulous recipe. We made up a big batch last night and everyone LOVED it! Creamy, tasty and wonderful! Enjoy!
makes approximately 1/2 quart of salad dressing:
1 and 1/2 hard boiled eggs, completely cooled, peeled and chopped
2 Tablespoons Worcestershire sauce
1 and 1/2 teaspoons white sugar
2 Tablespoons white vinegar
a tiny pinch of ground cloves
2 cups real mayonnaise (I used Hellmann's)
1/4 cup + 2 Tablespoons sweet pickle relish
1/4 cup black olives, chopped (not Kalamata)
1/4 cup sweet red bell pepper, finely chopped
In a medium mixing bowl, whisk all ingredients together until evenly blended. Transfer to canning jars with tight fitting lids. Refrigerate until ready to serve. This dressing will keep in your refrigerator for 10 days.
XO,
~Melissa
You may enjoy these related posts: