Print Friendly Version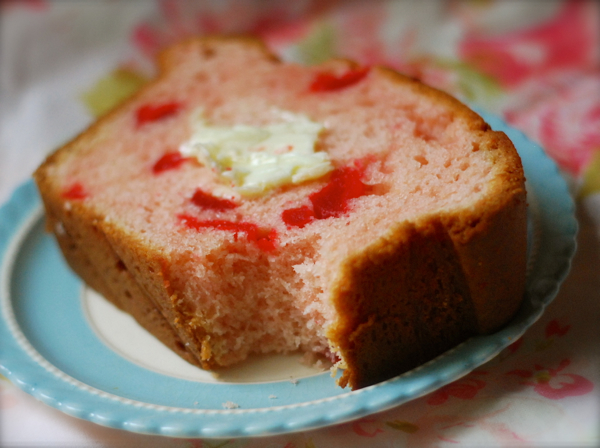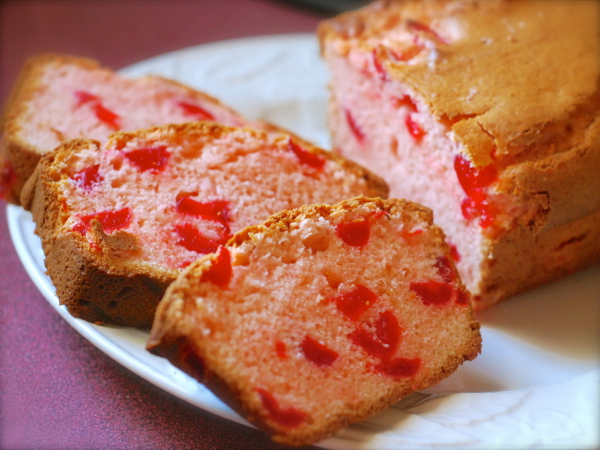 I'm getting excited for Valentine's Day and I'm making my treats early this year. First up: Cream Cheese Maraschino Cherry Bread!
I have lots of different quick breads and sweets featuring cream cheese on the blog, such as: Blueberry Lemon Cream Cheese Bread, Cream Cheese Orange Slice Bread, Strawberry Cream Cheese Banana Bread, Strawberry Dream Bread, and Creamsicle Cupcakes!
Cream cheese really does make all the difference between good quick bread and fabulously rich and moist quick bread! Try my trick and see for yourself.
This particular bread is rich and creamy with the bright flavors of maraschino cherries and almond. So delicious with a cup of coffee or tea!
Double the recipe and surprise your Sweetie or a friend on Valentine's Day!
for one loaf:
~ preheat oven to 350 degrees F. ~
1/2 cup unsalted butter, softened to room temperature
8 oz. cream cheese, softened to room temperature
1 cup sugar
2 large eggs
4 Tablespoons whole milk
2 Tablespoons maraschino cherry juice (from the jar)
1 teaspoon pure vanilla extract
1 teaspoon pure almond extract
2 Tablespoons lemon juice OR white vinegar
4 drops red or pink food coloring (optional)
2 cups all purpose flour
2 teaspoons baking powder
1/2 teaspoon baking soda
1/2 teaspoon salt
1 and 1/4 cup sliced maraschino cherries, well drained
Generously butter a 9×5 loaf pan.
In the bowl of a counter top mixer, such as a Kitchen Aid, mix the butter, cream cheese, and sugar until light and fluffy, using the whisk attachment. Add eggs, milk, cherry juice, flavor extracts, and lemon juice, food coloring. Mix just until evenly incorporated.
In a separate bowl, combine: flour, baking powder, baking soda, and salt. Add the dry ingredients to the wet ingredients, and using a wooden spoon, mix until just incorporated. Fold in cherries.
Transfer to prepared loaf pan. Bake in preheated oven for 60 to 70 minutes, or just until a wooden skewer inserted into the center of the loaf comes out with only a few moist crumbs on it.
Cool in pan for 20 minutes. Gently remove it from pan and cool completely on a wire rack. Dust with a little powdered sugar once cool, if you wish.
Enjoy!
~Melissa
You may enjoy these related posts: