Print Friendly Version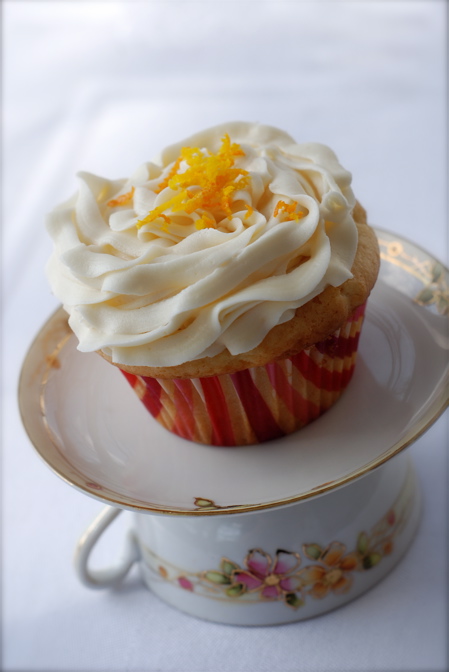 ~ creamsicle cupcakes ~
I was going to save this recipe for tomorrow's "Teatime Tuesday" post, but I got so excited after trying these I just had to share today! I created this cupcake recipe using my Strawberry Bread recipe as inspiration. These are incredibly moist and very yummy. Cream cheese is my "secret" ingredient for perfect cupcakes and quick breads. Try it and see for yourself!
preheat oven to 350 degrees F
1/2 cup butter, softened (not melted)
1 cup sugar
8 oz. cream cheese, softened
2 large eggs
6 Tablespoons fresh orange juice
zest of one orange (divided)
2 Tablespoons white vinegar
1 teaspoon pure vanilla extract
2 cups flour
2 teaspoons baking powder
1/2 teaspoon baking soda
1/2 teaspoon salt
1 cup chopped orange
1 cup white chocolate chips or chunks
Place cupcake liners in 18 cupcake pan cups. Mix butter, sugar, cream cheese, eggs, orange juice,  3/4 of the orange zest,  white vinegar and vanilla until smooth. In a separate bowl, combine the flour, baking powder, baking soda and salt until evenly incorporated. Slowly add the dry ingredients to the wet ingredients. Mix until just combined. Gently fold in the orange pieces and white chocolate. Spoon into the cupcake liners. Bake for 35-40 minutes or until a toothpick comes clean. Be careful not to over bake. Cool completely and frost with classic buttercream frosting. Garnish with a little orange zest.
~ classic buttercream frosting ~
This is my favorite recipe for buttercream frosting. I like to add a little flavoring extract to this creamy, fluffy frosting according to what it will be going on. This time I flavored it with a little vanilla extract and a little orange extract. Perfect for creamsicle cupcakes!
1/2 cup real butter, softened (not melted)
2 cups powdered sugar
1/4 teaspoon salt
1 teaspoon vanilla extract
1 teaspoon orange extract
2 Tablespoons heavy whipping cream
Comine all using a tabletop mixer or hand held electric mixer. Mix until light and fluffy.
Enjoy!
~Melissa
You may enjoy these related posts: