Print Friendly Version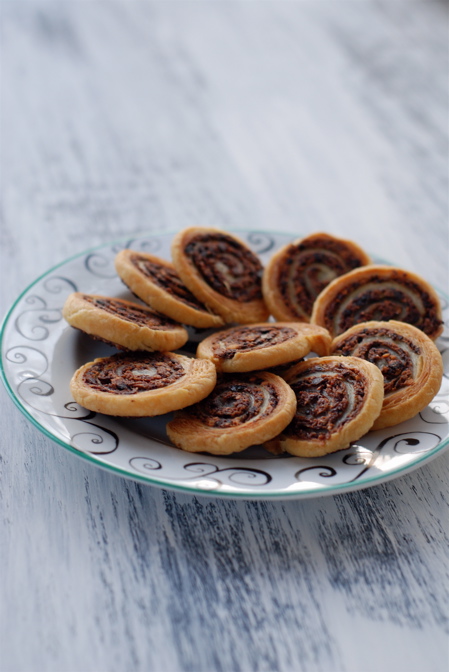 ~ tapenade pinwheels ~
This is an easy appetizer to make if you have puff pastry in the freezer. I like to keep a package on hand at all times. It's great for so many things! This little appetizer is made with tapenade, but you could use pesto too.
This is a lovely addition to a formal afternoon tea as part of a "savory" course.
1/3 cup pimento-stuffed green olives
1/3 cup pitted kalamata olives
2 large garlic cloves, minced
1/4 cup fresh grated Parmesan cheese
1/4 teaspoon fresh grated black pepper
2 Tablespoons unsalted butter
1 sheet frozen puff pastry
1 egg, lightly beaten
2 Tablespoons unsalted butter, melted
In the bowl of a food processor, combine olives, garlic, Parmesan cheese and pepper until finely chopped. Add butter and pulse until just blended. Set aside.  On a lightly floured counter or pastry board, roll out the puff pastry to a 14 x 11 inch rectangle. Leave a 1 and 1/2 inch border along one of the long edges and a 1/2 inch border along the other sides. Spread the tapenade evenly over the pastry sheet. Brush the 1 and 1/2 inch border with the egg. Starting from the opposite long edge, carefully roll the pastry like a jelly roll. Place the roll seam-side down on a cookie sheet and freeze for an hour. Preheat oven to 400 degrees F. Cut the roll into 1/2 inch slices. Place slices 2 inches apart on 2 nonstick cookie sheets. Brush each slice lightly with butter. Bake for 10 minutes, or until golden brown on the bottom. Flip and bake an additional 10 minutes on the other side (or until golden brown.) Watch closely so they don't burn. Cool slightly on wire racks before transferring to a pretty platter to serve.
Enjoy as an appetizer with a glass of wine or as an addition to afternoon tea!
~Melissa
You may enjoy these related posts: