Print Friendly Version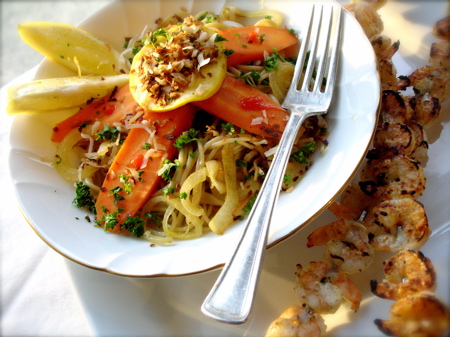 photograph by Melissa Placzek
~Suki's Singapore Noodles~
My friend Suki makes an amazing noodle bowl. She's from Singapore and when she moved to the U.S. she brought this delicious, authentic recipe with her. I've watched her chop vegetables like a Samurai, assemble spring rolls like she was competing in an Olympic sport…and then there's this noodle bowl. Well, you'll just have to try it and see.
~The Shrimp~
Marinade 1 lb. raw shrimp in the following concoction for 2-8 hours:
1/4 cup olive or peanut oil
2 teaspoons sea salt
2 teaspoons freshly ground pepper
2 teaspoons fresh thyme leaves
3 cloves fresh garlic, minced
Juice of one lemon, throw the peel in too
When the shrimp is finished marinating, grill on a charcoal grill.
(when done, wrap in heavy foil to keep warm)
~The Veggies~
In a skillet, heat 3 teaspoons olive or peanut oil
Stir fry:
1 peeled, sliced onion
3 large carrots, peeled and sliced on extreme diagonal
1 small yellow summer squash or zucchini, thin sliced
(when done, cover to keep warm)
~The Noodles~
Cook 8 oz. Udon noodles or whole wheat vermacelli according to package.
When al-dente, remove from water, drain well.
Toss with a little olive or peanut oil in a large bowl.
(Cover to keep warm)
~The Sauce~
In a saucepan, combine:
8 oz chicken stock or broth
1/2 cup real coconut milk
2 teaspoons sugar
2-3 teaspoons oyster sauce
1 Tablespoon Sriracha hot sauce
heat to simmer.
Add 2 Tablespoons cornstarch mixed with 2 Tablespoons water.
Stir with a wire whisk until smooth and thickened.
~Assemble Noodle Bowl~
Place in bowl, in order:
noodles
sauce
veggies
shrimp
toasted coconut
chopped, fresh cilantro or parsley
a squeeze of fresh lemon
~optional ingredients~
more Sriracha
soy sauce
sprouts
a sprinkle of curry powder
peanuts
Enjoy!
~Melissa
You may enjoy these related posts: