Print Friendly Version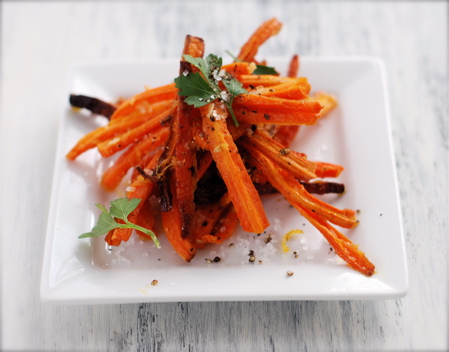 ~ oven roasted carrots & ginger ~
Oven roasted vegetables are a lovely, healthy, flavorful accompaniment to grilled fare. We enjoyed these with Asian-style chicken breasts and parsnip puree. Wonderful!
3-6 servings
6 large carrots cut into sticks
2-3 inches fresh ginger root, peeled and grated
 3 Tablespoons extra virgin olive oil
 drizzle of sesame oil
coarse sea salt
freshly grated black pepper
cayenne pepper
Combine carrot sticks, grated ginger and oils in a bowl. Toss to combine and evenly coat. Spread out on a large baking sheet so the carrots are in a single, even layer. Sprinkle with sea salt, pepper and a couple dashes of cayenne. Bake at 350 degrees F. until carrots are tender and a bit crunchy on the edges.
Enjoy!
~Melissa
You may enjoy these related posts: