Print Friendly Version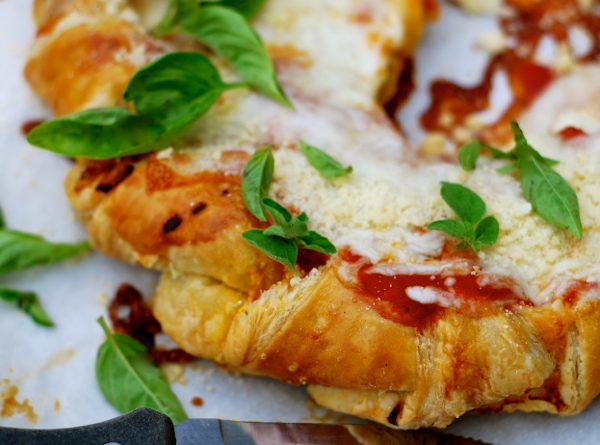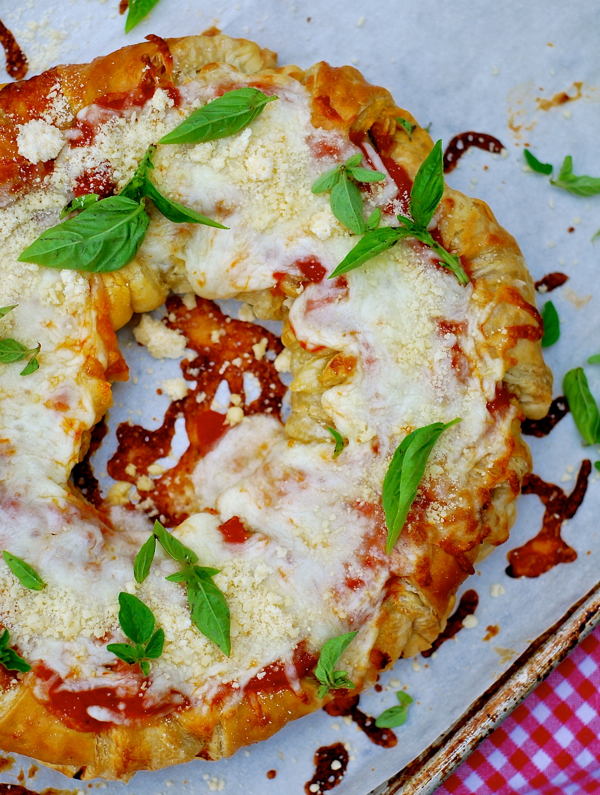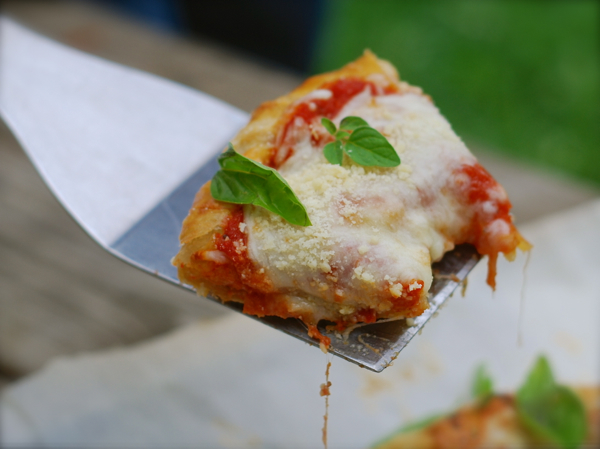 When you first read through the directions on how to make this delicious pizza puff you might think it sounds complicated. Believe me, it's really not. Once you start you'll see how intuitive the recipe is, and discover how easy it is to make a unique, yummy appetizer in about 30 minutes!
Feel free to substitute dry herbs for the fresh ones, if that's all you've got. We think the fresh basil and oregano are so pretty, and there's nothing that beats the flavor of fresh herbs in Italian dishes.
You'll need:
2 sheets of puff pastry (I use the two pack of Pepperidge Farms brand)
2/3 cup to 1 cup pizza sauce OR spaghetti sauce
approximately 15 to 20 slices of pepperoni
2 cups Mozzarella cheese, grated
1/2 cup freshly grated Parmesan cheese OR the powdered type
1 teaspoon garlic powder
1 teaspoon onion powder
1/4 teaspoon red pepper flakes
1 small bunch fresh basil leaves
1 whisked egg
ranch dressing OR creamy Italian dressing (for dipping)
Preheat oven to 400 degrees F.
Remove the two sheets of puff pastry from the freezer an hour before you want to start making your pizza puff so they can thaw. Take them out of all the packaging and set them on a plate on your counter.
Once thawed, using floured hands, slice each rectangle of puff pastry into 4 uniform squares. Now cut each of the squares into two triangles (You'll have 8 triangles.) Repeat with the second sheet of puff pastry for a grand total of 16 triangles.
Arrange triangles in a circle on a large, parchment-lined baking sheet. Overlap triangles a bit. Spread 1/3 cup to 1/2 cup of the sauce around the ring, followed by a ring of pepperoni, half the Mozzarella cheese, half the Parmesan cheese, the red pepper, garlic powder, onion powder, and some of the basil and oregano leaves. Brush a little of the egg wash on the pastry. Fold corners of pastry into the middle of the ring, one at a time, pressing gently as you go so it seals the filling into the pastry. Brush the whole ring with more of the egg wash. Place in preheated oven, and bake for 25 minutes. Remove from oven and top with the rest of the sauce and the rest of the cheeses. Return to oven and bake an additional 8 to 10 minutes.
Caution: It will be very hot so be careful as you cut the ring into wedges. Plate and serve with the ranch and/or creamy Italian dressing for dipping. Garnish with additional fresh basil and oregano, if you wish.
Enjoy!
~Melissa
You may enjoy these related posts: