Print Friendly Version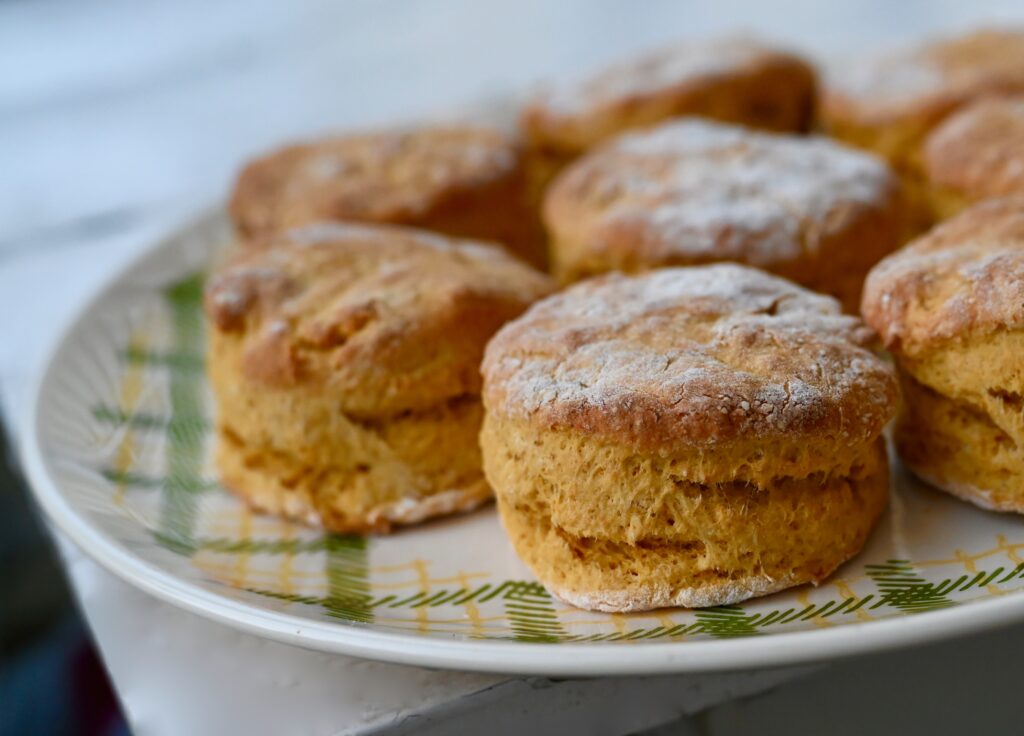 Are you looking for different ways to enjoy butternut squash? Or, are you looking for something a bit different to add to your Thanksgiving menu? These little biscuits are so darn good with everything.
I made up a huge batch to go with a big pot of soup a couple nights ago and everyone loved them. They make a great accompaniment to stews, chili, and salads too.
They're also good with butter, cinnamon & sugar, or jam for breakfast. Lovely with a cup of coffee or tea.
You could even treat them as scones. Split them and add a giant dollop of this mock Devonshire cream for a real treat!
~ Preheat oven to 425 degrees F. ~
2 cups cooked, mashed butternut squash (or pumpkin)
2/3 cup milk (I used macadamia)
1/4 cup applesauce
1 Tablespoon apple cider vinegar
1/4 cup brown sugar
4 cups all purpose flour
1 and 1/2 Tablespoons baking powder
1 teaspoon baking soda
1 teaspoon sea salt
1/2 teaspoon nutmeg
8 Tablespoons cold butter
Mix squash, milk, vinegar, applesauce, and brown sugar in a large mixing bowl. Set aside.
Mix flour, baking powder, baking soda, salt, and nutmeg in another large bowl. Use a wire whisk to blend well. Add cold butter. Using fingers, or a pastry blender, work butter into dry ingredients until uniform and crumbly.
Add wet ingredients to dry ingredients and mix just until well incorporated.
Flour a clean surface and place biscuit dough on flour. Sprinkle a little more flour on top and pat down to about 3/4 inch thickness. Use a biscuit cutter or a glass to cut out biscuits. As you cut them out, place them on lined baking sheets, 2 inches apart. You can line the sheets with Silpat or cooking parchment.
Bake for 20 to 22 minutes, or just until golden brown and baked through.
Cool completely on wire racks before transferring to Ziploc bags or well sealed containers. These biscuits will keep, tightly sealed, for up to 4 days at room temperature, or a couple months when frozen.
Yield: approximately 16 biscuits
Enjoy!
~Melissa
You may enjoy these related posts: