Print Friendly Version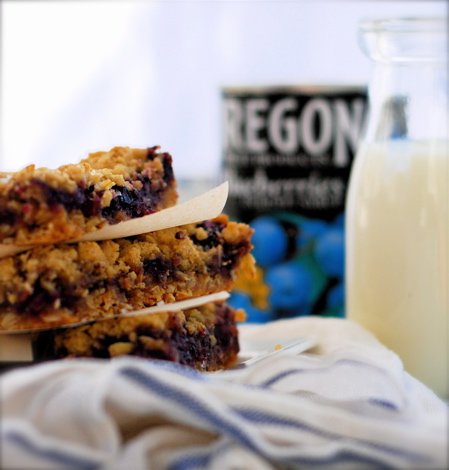 ~ blueberry oatmeal bars with orange zest ~
These are buttery and crunchy with a chewy blueberry center and the flavor of the blueberries in brightened with fresh orange juice and zest. I wouldn't call these health food, but they have lots of good-for-you ingredients in them…so you could grab one for a quick breakfast if you wanted to. We've enjoyed them a` la mode for a summertime dessert, drizzled with a little cream,  and of course accompanied by a big mug of tea!
1 can Oregon blueberries
juice and zest of one orange
2 and 1/2 Tablespoons cornstarch
2 cups unbleached all-purpose flour
2 cups regular rolled oats
1 cup brown sugar
1 and 1/4 teaspoons baking powder
1 teaspoon sea salt
1 teaspoon cinnamon
1/2 teaspoon allspice
1/2 teaspoon ginger
1 cup unsalted butter, softened
Drain blueberry syrup from can into a saucepan. Set the blueberries aside.  Combine the syrup with the orange juice, zest and corn starch. Cook over medium heat, whisking with a wire whisk until the sauce is thickened. Stir in the berries. Set aside to cool a bit.
Combine flour, oats, brown sugar, salt and spices. Cut the softened butter into the oatmeal mixture. Press 2/3 of the mixture into the bottom of a 9 x 13 glass cake pan. Bake at 400 degrees F. for 15 minutes. Remove from oven. Cool for 5 minutes. Spread the blueberry mixture evenly over crust. Crumble the remaining oat mixture evenly over the top. Press lightly. Return to the 4oo degree oven and bake for 25 minutes, until lightly browned. Serve with a drizzle of real cream, or a scoop of ice cream if you wish.
Enjoy!
~Melissa
You may enjoy these related posts: