Print Friendly Version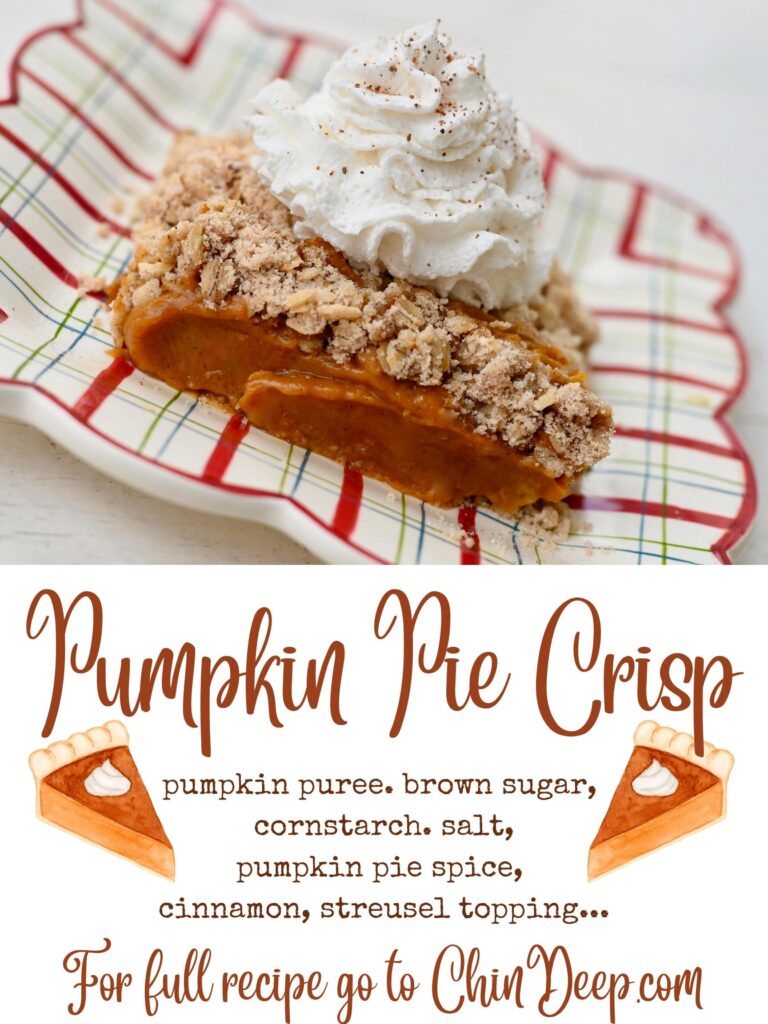 This recipe for pumpkin pie crisp was inspired by apple crisp. You know how much easier it is to make apple crisp than it is to make apple pie? Well, the same goes for this pumpkin crisp. You get all the delicious flavors of pumpkin pie, including the condominium-size pile of whipped cream on top, without all the fuss.
If you make this delicious pumpkin pie crisp for a special occasion, you'll want to make it a day in advance and really give it a chance to set up nicely. It's a great dessert for holiday potlucks and gatherings. Everyone loves it so be prepared to share the recipe.
15 oz. pure pumpkin puree
13.5 oz. can full fat coconut milk, room temperature
1 cup brown sugar
1/4 cup cornstarch
1 Tablespoon pumpkin pie spice
1 teaspoon cinnamon
pinch of ground cloves
1/2 teaspoon salt
Place all ingredients in the bowl of a blender and blend for a minute or two. Just until well combined and all the ingredients are evenly incorporated.
Grease a 9×13, glass baking dish and pour the pumpkin mixture into the pan. Smooth top with a rubber spatula so the filling is nice and even.
For the streusel/crisp topping:
1 cup all purpose flour
1 cup old fashioned, rolled oats
1/4 cup sugar
1/2 teaspoon pumpkin pie spice
1/2 teaspoon cinnamon
1/2 teaspoon salt
6 Tablespoons butter (we use organic Earth Balance)
Combine all dry ingredients in a medium mixing bowl until well incorporated. Cut in butter, using a pastry blender or your hands, until crumbly.
Sprinkle evenly over the pumpkin mixture in the pan, using all of the streusel topping.
Bake at 350 degrees F. for 45 to 50 minutes, or until set and the top is a light golden color.
Remove from oven. Cool completely. Cover. Refrigerate overnight.
To serve, cut into squares, plate, and top with your favorite whipped topping or vanilla ice cream. (We love coconut Redi Wip, and So Delicious vanilla ice cream.)
Enjoy!
~Melissa
You may enjoy these related posts: