Print Friendly Version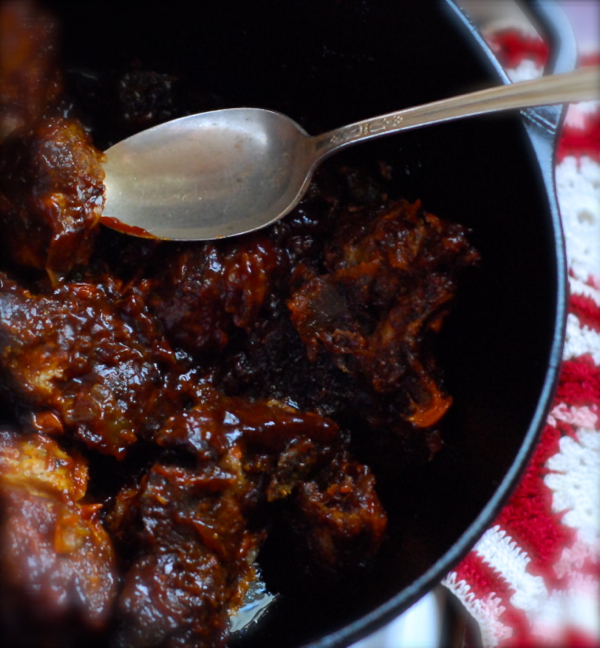 Are you ready for the easiest, tastiest BBQ ribs you can make in your oven? You're in for a treat! This entree was the star of the show at our last gathering. Everyone loved it. These are the super tender, fallin' off the bone kind of ribs. Country style ribs come boneless and with bones. Either is fine, but this isn't a recipe for baby back, rack-style ribs. This makes enough ribs for about 10 people. If you're feeding a smaller group, just cut the ingredients by half. These make great leftovers!
~ preheat oven to 325 degrees F. ~
7 lb. boneless "country" style pork ribs
(or bone-in… but not a rack of ribs)
1/4 cup bacon grease (for browning)
2 large onions, sliced
40 oz. BBQ sauce (we used Sweet Baby Ray's Hickory Brown Sugar)
freshly ground black pepper
Heat bacon grease in a large skillet and brown the ribs in the bacon grease. (about 2 minutes per side.)
Divide browned ribs between two roasting pans or large, cast iron Dutch ovens. Brown the onion slices in the meat/bacon drippings until lightly golden and translucent. Sprinkle the onions evenly over the ribs. Top the ribs with all of the BBQ sauce so the meat is coated well. Sprinkle pepper over all. Cover tightly with heavy duty aluminum foil (or, if you're using cast iron Dutch ovens, just place the lids on tops of pots.)
Bake in preheated oven for 2 and 1/2 hours or just until the ribs are very tender and falling apart.
Enjoy!
~Melissa
You may enjoy these related posts: