Print Friendly Version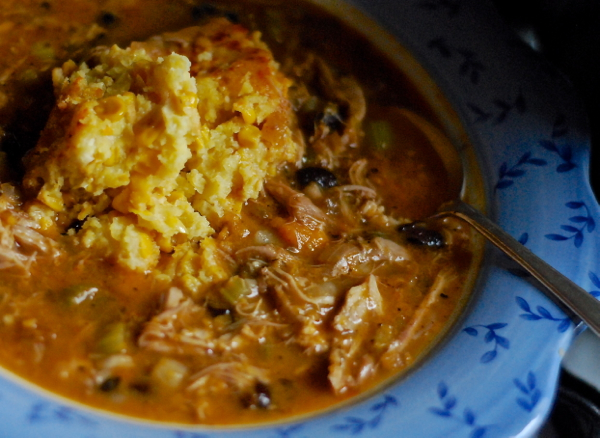 When you think of comfort food, what's the first thing that comes to mind? Casseroles? Meatloaf? Mashed Potatoes? Macaroni & Cheese? Pancakes? Those are all good choices, and some of my favorites too, but when I think comfort food, I think soups and stews. There's just nothing quite like a big, hot bowl of soup with a generously buttered hunk of baguette on a cold, snowy day.
Here's my latest creation. It utilizes Thanksgiving leftovers and it has just a slight Tex-Mex Twist. I didn't go overboard with seasonings since there are already so many flavors happening, but it's just enough to go well with a scoop of leftover corn pudding (if you have some on hand), or cornbread. Jeff and Grace like theirs with leftover stuffing. It's also awesome with a bit of brown or white rice added just before you serve it. I was surprised and delighted by how awesome this soup turned out. If you're feeling ambitious you can save all of the bones and skin from your Thanksgiving turkey and make your own stock for this soup. That way you really are using the whole bird, and it tastes so good.
1 large onion, chopped
2 cups chopped celery + leafy green tops
3 large cloves garlic, minced
1/4 cup olive oil
2 Tablespoons dried oregano (I used Mexican)
2 teaspoons cumin
2 teaspoons smoked paprika
1/2 teaspoon dried ginger
1/2 teaspoon cayenne pepper
1/4 cup dry red or white wine
6 to 8 cups homemade turkey or chicken stock/broth (or store bought)
1 (15 oz.) can black beans, drained and rinsed well
juice of one big lemon or lime
3 cups cooked, mashed sweet potatoes
1 cup cooked, mashed russet potatoes
1/4 cup cranberry sauce (any type)
3 to 4 cups cooked turkey, shredded or cut into bite size pieces
salt and pepper, to taste
corn pudding, stuffing or rice
your favorite hot sauce (optional)
Heat olive oil in a large, heavy stock pot. Saute the onions and celery over medium-high heat until translucent and tender. Add garlic, oregano, cumin, paprika, ginger and cayenne pepper. Cook for 2 minutes, or until fragrant and slightly toasted. Lower heat. Deglaze pan with the wine, scraping the brown bits from the bottom. Add stock/broth, beans, lemon juice, sweet potatoes, russet potatoes, cranberry sauce and turkey. Bring soup to boil and then lower heat to a gentle simmer. Cook for 20 to 30 minutes or until soup is hot all the way through.
Place a scoop of warmed corn pudding, stuffing or rice in bottom of soup bowl. Ladle the hot soup over and drizzle with a little hot sauce.
Enjoy!
~Melissa
You may enjoy these related posts: