Print Friendly Version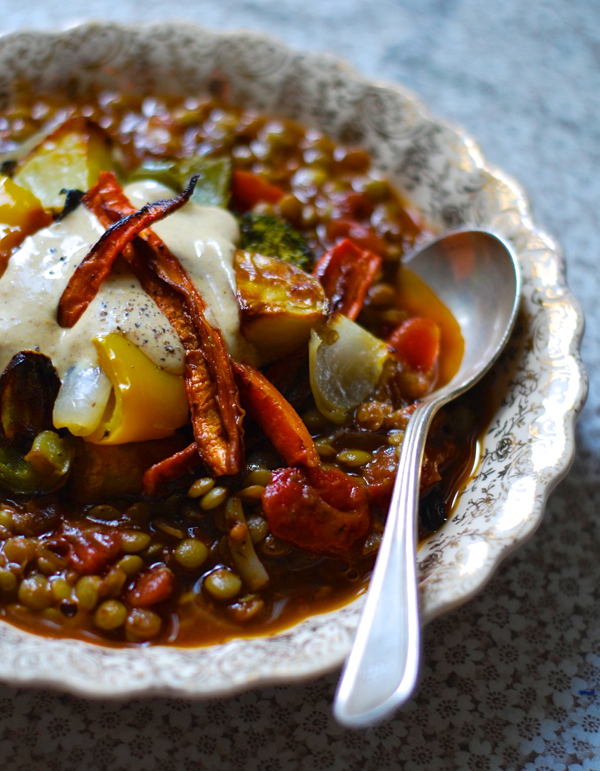 We're still hibernating here in Minnesota. Some day spring will come. SOME daaaaayyyyy…… Wah. Anyway, I'm still here baking bread and making soup and playing with yarn and looking at the piles of snow outside.
I watched the season finale of Downton Abbey today and it was so so so so good. I wished it would never end. Are you a fan? What do you think is going to happen next?
This is an amazingly healthy dish with cozy spices, hearty oven-roasted veggies galore, and it's topped with a creamy, cool, curry sauce. If you don't like curry, don't fret. You can substitute cumin, smoked paprika or another favorite spice for the curry. Orrrrr… you could top your stew with tzatziki (which is good on almost everything.) Also, you can substitute fresh herbs for the dry if you happen to have them on hand. You'll want to use more of the fresh because they aren't as potent.
for the soup:
2 cups dry lentils (any type)
3 Tablespoons extra virgin olive oil
1 large onion, chopped
1 Tablespoon dry oregano
1 Tablespoon dry dill
1 teaspoon allspice
1 large garlic clove, minced
2 cups water
28 oz. can fire roasted, diced tomatoes + juice from can
2 Tablespoons balsamic vinegar
2 Tablespoons honey
1 teaspoon cumin
1 teaspoon smoked paprika
2 bay leaves
In a large soup stock pot or heavy bottomed Dutch oven, bring 6 cups water to boil. Add lentils and cook for about 20 minutes (or until tender.) Drain and set aside.
Add the oil to a large, heavy skillet. Saute the chopped onion along with the oregano, dill and allspice until golden, translucent and fragrant. Add the minced garlic during the last minute of cooking time. Place the Lentils back in the soup pot along with the onion mixture. Add water, tomatoes plus tomato juice, vinegar, honey, cumin, paprika and bay leaves. Bring soup to a simmer and cook on very low for about 15 minutes. Remove from heat. Cover and set aside while you make the oven roasted veggies and curry cream. This will give the flavors in your soup a chance to "marry."
for the oven roasted veggies:
preheat oven to 425 degrees F.
2 large potatoes, cut into bite size pieces
4 large carrots, cut into big chunks
2 sweet bell peppers (any color), cut into big chunks
1 large onion, sliced
10 spears of asparagus
a few broccoli florets
a head of garlic, cloves separated but not peeled
a fennel bulb, coarse chopped
Keep veggies separate because all vegetables roast at different speeds (approximately 20 to 40 minutes). Toss individual vegetables with olive oil and place them on baking sheets. Season with a little salt and pepper and roast until tender and browned on the edges. Remove each different vegetable from the oven when it's done and place it in a big mixing bowl. Remove the garlic from it's skin before adding to the bowl. When all vegetables are done, mix them up in the bowl and cover until you're ready to serve the stew.
for the curry cream:
1 cup plain greek yogurt
1/4 cup buttermilk
2 Tablespoons steak sauce  (use your favorite, we like Trader Joe's)
1 Tablespoon curry powder
1 Tablespoon onion powder
1/4 teaspoon cinnamon
1/4 teaspoon cayenne pepper
Place all ingredients in a medium mixing bowl and mix with a wire whisk until well combined. Transfer to a canning jar, cruet, large cream pitcher or gravy boat. Place in refrigerator until ready to serve.
to serve:
Heat up stew again. Ladle into bowls, top each serving with a pile of oven roasted veggies and a drizzle of the curry cream. Salt and pepper to taste.
Enjoy!
~Melissa
You may enjoy these related posts: