Print Friendly Version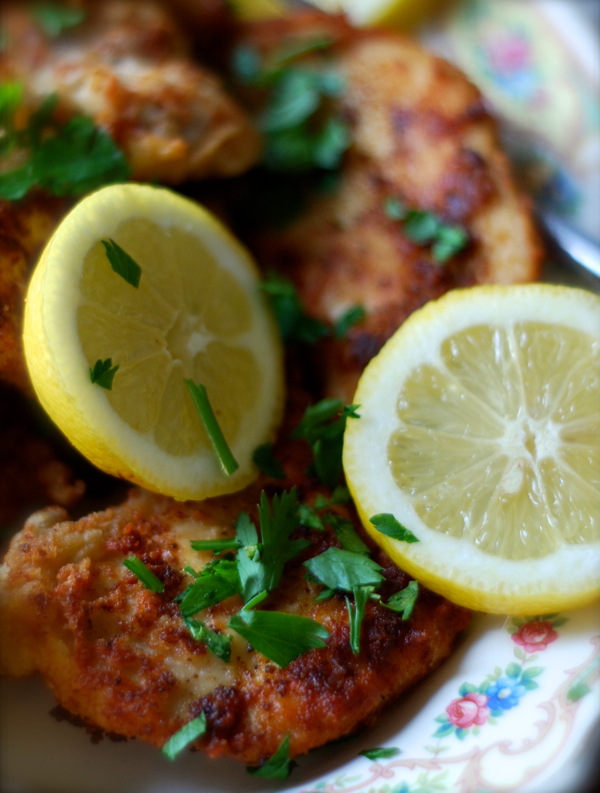 ~ lemon chicken ~
This is one of the hubby's favorite dishes. We serve this with white jasmine rice and crisp green salad or steamed asparagus. Melt in your mouth yummy!
4 boneless, skinless chicken breasts
2 c. flour
1 Tablespoon onion powder
1 teaspoon garlic powder
1/2 cup unsalted butter
3 Tablespoons extra virgin olive oil
1/4 cup white wine
salt and freshly ground pepper
1/4 cup fresh parsley, chopped
juice from one lemon
Place chicken breasts in ziplocs. Using the side of a hammer, gently pound them flat. Melt the butter and olive oil in a large, heavy skillet. Blot chicken breasts with paper towels and dredge in the flour, onion powder and garlic powder mixture. Set heat to medium high and place breasts in skillet. Cook 3-4 minutes per side, or until juices run clear. Season them with the salt and pepper and transfer them to an oven-proof dish. Set in a low oven to keep warm.
To make the lemon sauce:
 Deglaze pan with the white wine. Add a couple more Tablespoons butter to the skillet and melt, scraping up the brown bits with a wooden spoon or spatula. Remove from heat. Add 1/4 cup finely chopped, fresh parsley and juice from one lemon. Cook until heated through. Place chicken breasts on rice, pour sauce over and serve.
Enjoy!
~Melissa
You may enjoy these related posts: