Print Friendly Version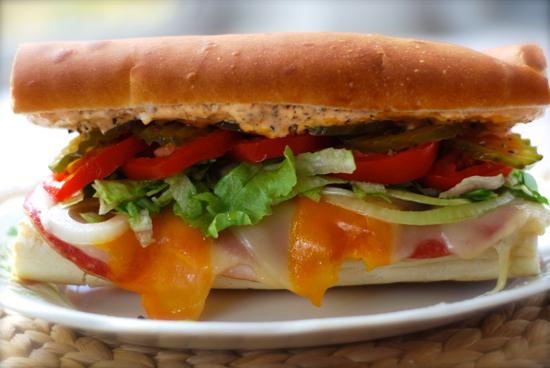 Craving a big, flavorful delicious sandwich that you can barely stretch your mouth around? You've come to the right place. As I was making this mammouth stack of meaty, cheesy deliciousness I was thinking about the cartoon Scooby Doo. Remember it? I use to watch it every day when I got home from school. Gotta love the Mystery Machine, the wacky cast of characters…and the Shaggy Sandwiches that Shaggy and Scooby would make after raiding the fridge. When I was little I thought those sandwiches were the yummyest things I had ever seen. Piled high with all sorts of different things. This sandwich is my ode to Shaggy. Enjoy!
Makes one really big (possibly sharable) sandwich:
12 inch, fresh sub roll, split lengthwise
on the bottom half, pile ingredients in this order…
roasted turkey breast and/or honey ham
hard salami
pepperoni
alternate thin pieces of provolone, swiss and cheddar cheese
thinly sliced onion
black or green olive slices
Place this on a baking sheet and toast in a toaster oven or regular oven until the cheese is melty. Remove from oven and continue stacking…
shredded lettuce
thinly sliced tomato
pickles
a drizzle of extra virgin olive oil
a drizzle of balsamic vinegar or red wine vinegar
In a small bowl combine:
2 Tablespoons real mayonnaise
2 Tablespoons grated Parmesan cheese
2 teaspoons horseradish sauce
1 teaspoon Sriracha hot sauce
1 teaspoon dry Italian or Pizza seasoning
1 teaspoon salt
1 teaspoon freshly ground black pepper
Spread this generously over the top half of the sub roll. Place on top of the rest of the sandwich. Squish it a little bit and cut in half.
Enjoy with a French press coffee or your favorite dark roast coffee.
~Melissa
You may enjoy these related posts: