Print Friendly Version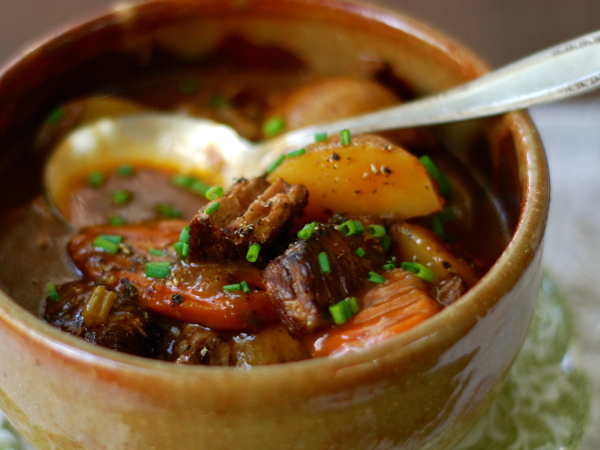 While vacationing on the north shore of Lake Superior this past August, I made beef stew again. It's always about 20 degrees cooler up north so it's perfect "stew weather." Jeff and Grace request it every year and it's become a happy tradition. I usually make my version of my friend Danielle's recipe, but this year I decided to make it Irish by adding Guinness stout in place of the wine, and changing up the root veggies and other ingredients a bit. It's every bit as good, but different enough to warrant a new recipe post. Soooo, here ya go! Hope you love it as much as we do!
4 lb. chuck arm roast OR lamb cutlets, (excess fat removed)
1/4 cup olive oil (I used extra virgin)
coarse sea salt and freshly ground black pepper
1 large onion, chopped OR 1 cup chopped shallots
4 stalks celery, diced
2 cabbage leaves, thinly sliced (optional)
1 small can tomato paste (about 1/4 cup)
3 cups beef broth
12 oz. Guinness stout beer
2 Tablespoons Worcestershire sauce
4 large carrots, (peeled and cut into one inch pieces)
20 red baby bliss or yellow baby Dutch potatoes (the tiny ones) OR substitute diced rutabaga, turnip and/or parsnips in place of half of the potatoes
3 bay leaves
2 Tablespoons fresh thyme leaves
5 Tablespoons minute tapioca
2 large cloves garlic, minced
snipped chives for garnish (optional)
Cut meat of choice into 2 inch chunks and dry well with paper towels. Heat the olive oil in a heavy skillet or Dutch oven. Brown the meat in batches, and transfer them to a large (6 or 7 quart) slow cooker. Salt and pepper the meat. Add the onion/shallots and celery to the skillet and saute until transparent. Add tomato paste, broth, beer and Worcestershire to skillet. Stir to combine. Bring to a gentle simmer and carefully pour this mixture over the meat in the Crock Pot/slow cooker. Add everything else, except for the snipped chives, to the crock and stir to combine. Cover and cook on the "high" setting for 6 hours. Remove bay leaves. Salt and pepper to taste and serve with your favorite bread, brack,  biscuits or scones.
Enjoy!
~Melissa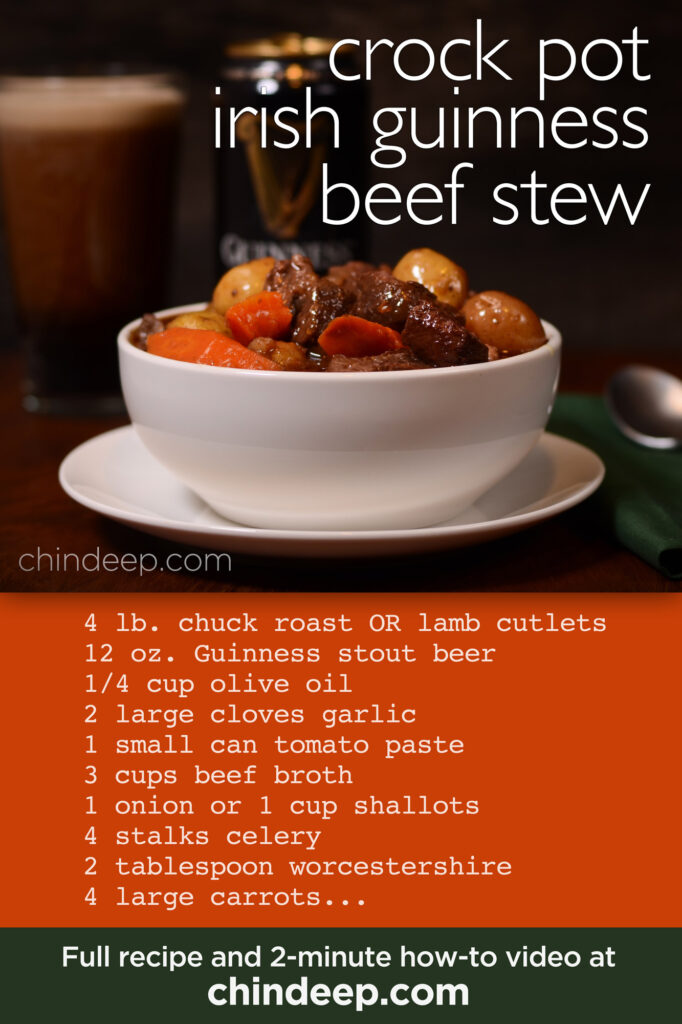 You may enjoy these related posts: