Print Friendly Version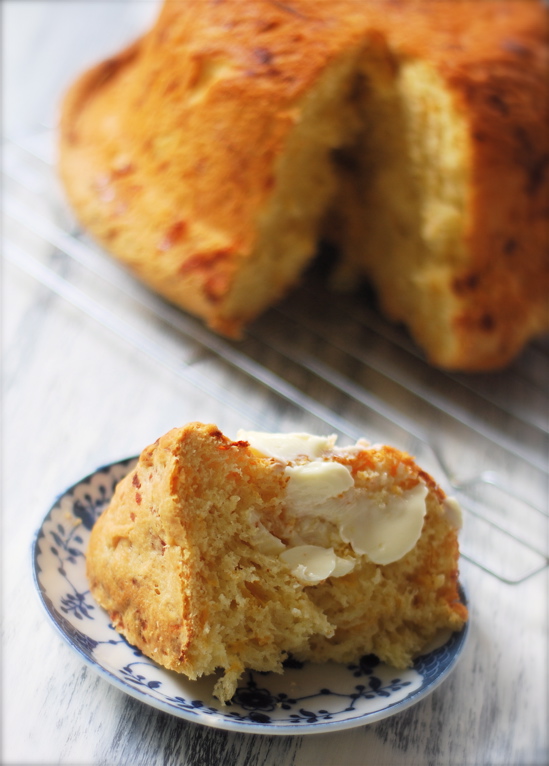 This is a beautifully moist, cheesy bread that is wonderful right out of the oven or toasted. Either way it's one of my favorite accompaniments to a big bowl of soup! It's so easy to prepare and will fill your house with the cozy scent of fresh-baked bread. Aromatherapy at it's very best.
2 and 1/2 cups bread flour
1 Tablespoon sugar
1 and 1/2 teaspoons salt
1 package active dry yeast
1 and 1/4 cups shredded cheddar cheese (I like extra sharp!)
3/4 cup buttermilk
1/2 cup butter
3 large eggs, beaten
In the bowl of your Kitchen Aid, combine 1 and 1/2 cups of the flour, sugar, salt and yeast. Stir in cheese with a wooden spoon. In a small saucepan, heat the buttermilk and butter until warm (120 to 130 degrees F.) Add the milk mixture to the eggs, mix until just combined, and then add the wet mixture to the dry mixture in the Kitchen Aid bowl. Using the paddle attachment, blend on low speed just until moistened. Turn the mixer up to medium and beat for 3 minutes. Stir in the remaining cup of flour by hand. Cover loosely with a piece of buttered plastic wrap, set in a warm place and allow to rise for an hour, or until doubled in size.
Generously butter a 2 quart casserole pan. Gently stir down the dough with a wooden spoon to remove all the bubbles. Turn into the buttered casserole pan. Cover with the buttered plastic wrap again, set in in a warm place and allow to rise an additional 40 minutes.
Heat oven to 350 degrees F. Uncover dough. Bake for 45 minutes or until deep golden brown. Immediately remove the bread from the casserole pan and allow it to cool on a wire rack.
Enjoy!
~Melissa
You may enjoy these related posts: