Print Friendly Version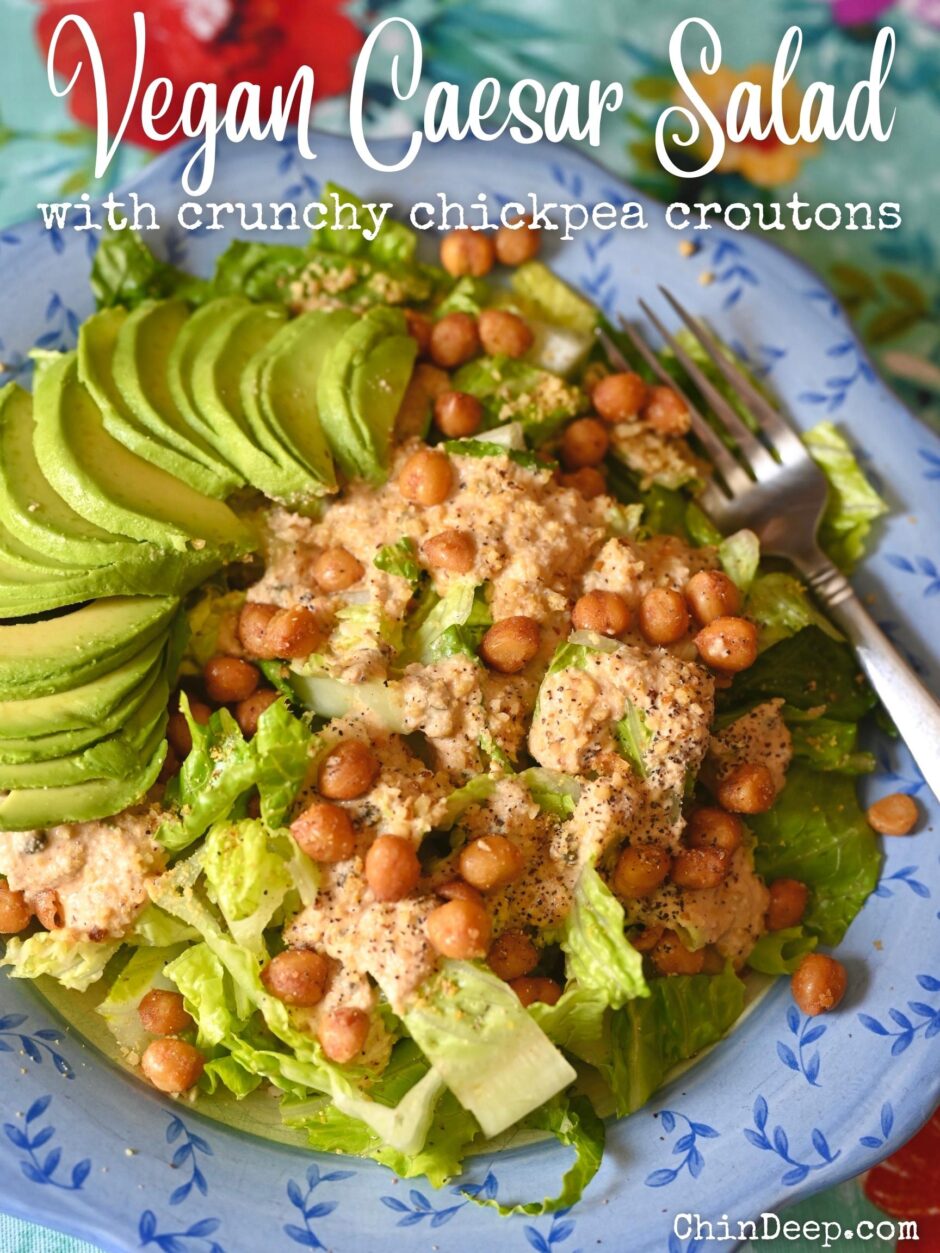 I brought the ingredients for this delicious salad to my daughter's house today so we could enjoy our lunch together while watching the new installment of Shining Girls on Apple TV. Have you been watching that show? It's so good! It's definitely creepy, and will keep you on the edge of your seat, so if you don't want to have Caesar Salad while you watch, you should definitely make some popcorn so you can nervously eat that.
This salad was actually really easy to prepare. You'll have to make the separate components, and that may seem intimidating, but I assure you it's simple. If you don't want to make vegan caesar, buy some. Good & Gather brand (from Target) makes a pretty good one, and the JUST brand, plant based Caesar is fantastic if you can find it. The homemade version is best, in my opinion, but if you're in a hurry or just don't feel like making dressing, there is nothing wrong with just opening a bottle of the already made stuff.
Some people like to make their own crunchy chickpeas for this recipe. There are a ton of recipes online. If that's something you'd like to try, just Google it. I love to use the Biena brand, vegan ranch chickpea snacks that I get at Walmart. They're also available on Amazon. They are the BEST darn crunchy chickpeas on the planet. The ones I've made in my own kitchen don't even come close. I can't seem to get them as crunchy. If you have any tips for making good ones, please let me know.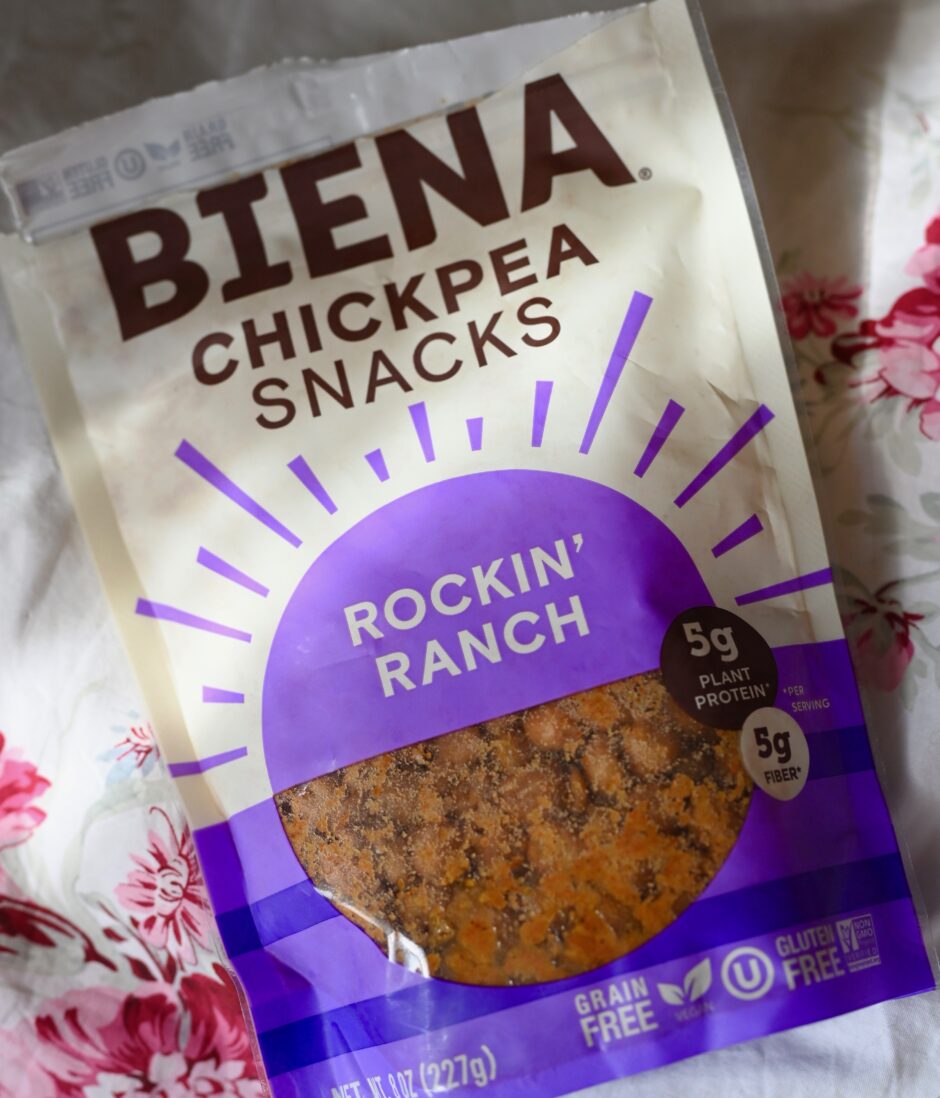 And, of course, the Parmesan cheese component. What would Caesar salad be without it? Feel free to get a block of Violife Parm, if you'd like. It's my favorite Parm, and it's really good on this salad. If you don't have access to a store that carries it, have no fear. My walnut Parm is amazing. It adds even more crunch, and is oil free if you're a vegan that doesn't do oil.
Okay, ready? Let's make this thing.
for one big salad:
one small head or Romaine lettuce, or one Romaine heart, chopped up
1/2 avocado, sliced and fanned (optional)
vegan Caesar dressing (recipe below)
crunchy chickpeas (I used BIENA brand, pictured above)
a generous sprinkle of vegan walnut Parmesan "cheese" (recipe below)
freshly ground black pepper
for the Caesar dressing:
1 and 1/2 cups cashew cream
3 large garlic cloves, minced
1/4 cup capers, drained well, + 1 T. of the brine from the jar
2 Tablespoons vegan Worcestershire sauce
1 heaping Tablespoon Dijon mustard
juice of 1 lemon
1/4 cup nutritional yeast
sea salt and freshly ground pepper, to taste
Mix all in a large mixing bowl. Whisk smooth, adjust seasonings, and then transfer to a canning jar with a tight fitting lid. Refrigerate until ready to use. This dressing will keep for 7 days in your refrigerator, and you'll have a bunch left over, which is good because it's fantastic and you're going to want to put it on everything. If it seems too thick, you can thin it out with a tiny bit of water or more caper brine. if it seems too tart, you can even out the tartness by adding a little more salt, to taste.
for the vegan walnut Parmesan cheese:
1 cup walnut pieces
1/4 cup nutritional yeast
1 teaspoon garlic powder
1 teaspoon onion powder
1/2 teaspoon sea salt
Place all in bowl of a food processor and pulse until uniform. It will resemble powdered Parmesan cheese. Keep the rest in a jar with a tight fitting lid in your refrigerator. Use within 14 days.
Place the chopped lettuce in a bowl, top with some dressing, crunchy chickpeas, vegan Parm, the fanned avocado half (if using), and some fresh pepper.
Enjoy!
~Melissa
You may enjoy these related posts: