Print Friendly Version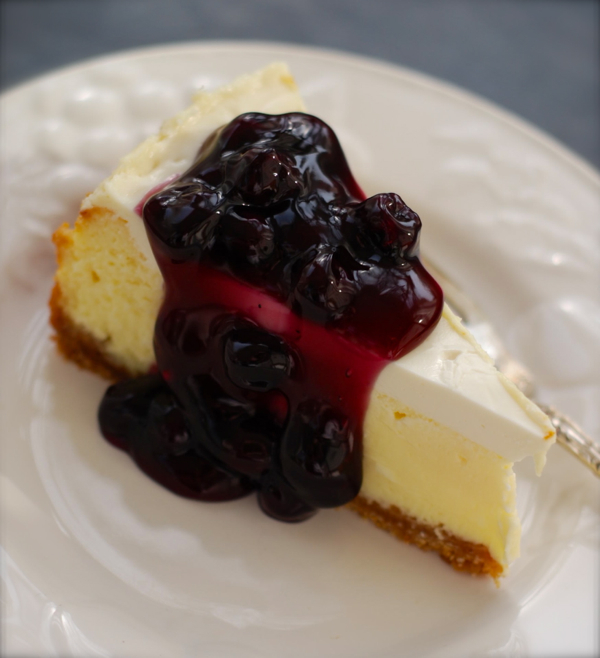 My little sister, Ganesa, requested homemade cheesecake for her birthday this year so I got busy the day before the party and made one. This recipe is absolutely fantastic. If you're looking for amazing, look no further. This is rich and creamy and perfect.
Preheat oven to 325 degrees F.
for the crust:
2 cups graham cracker crumbs
1/2 cup salted butter, melted
1/3 cup sugar
Lightly spray a 10 inch spring form pan with non-stick cooking spray. In a small bowl, combine the graham cracker crumbs, butter and sugar until well mixed. Press the mixture into the bottom of the spring form pan.
for the cheesecake filling:
*allow all ingredients to come to room temperature before mixing the filling
**Mix everything with the paddle attachment, a whisk will add too much air to your cake
***Mix everything on the low setting
****Place a 9 inch cake pan, half full of water, on the rack below the cake as it bakes
32 oz. Philadelphia cream cheese (no substitutes and NOT light or non-fat)
1 and 3/4 cup sugar
1/8 teaspoon salt
5 large eggs
2 teaspoons pure vanilla extract (I used Trader Joe's Bourbon Vanilla)
In the bowl of a counter top mixture (such as a Kitchen Aid) and using the paddle attachment, combine: cream cheese, sugar and salt together until smooth. Add the eggs, one at a time, beating until smooth. Mix in the vanilla. Pour this mixture onto the crust. Bake at 325 degrees for 1 hour or until done. (The cake is done when it's nearly set, just slightly jiggles in the center and is a light golden brown color around the edges.) Remove from oven for 10 to 15 minutes and turn the oven up to 400 degrees.
While the cake is cooling slightly, prepare the topping.
for the topping:
2 cups full fat sour cream (not light)
1/2 cup sugar
1 teaspoon pure vanilla extract
Pour the topping onto the cake after it's cooled for 10 to 15 minutes. Return the cake to the oven for 10 to 15 minutes. Remove from oven. Cool cake completely on the counter. Then remove from pan. Place on a cake plate. Cover and refrigerate for 3 hours before slicing and serving.
Enjoy with your favorite toppings:
chocolate, caramel, whipped cream & nuts
blueberry pie filling
lemon curd
cherry pie filling
(the possibilities are endless!)
XO,
~Melissa
You may enjoy these related posts: