Print Friendly Version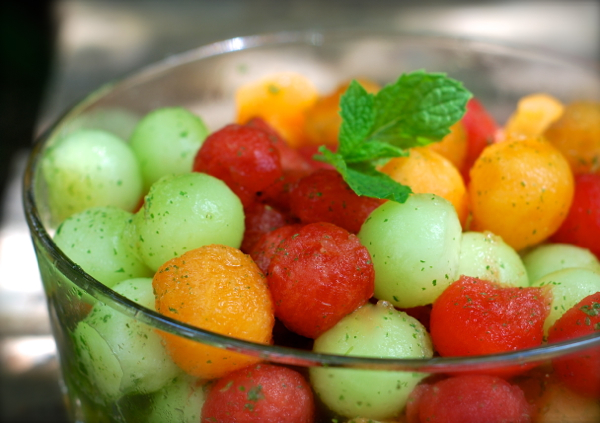 This is a healthy, refreshing summer dessert. We served it to our dinner guests last night and everyone loved it!
Simply use a melon baller to create melon balls OR cube your favorite kind of melon. I used half of a small, seedless watermelon, half of a honeydew melon, and half of a cantaloupe.
Place prepared melon in a large, clear glass bowl.
In the bowl of a blender, combine: a large handful of fresh, clean mint leaves, the juice of two large limes, 1/4 cup honey, and 1 to 2 Tablespoons fresh, grated ginger.
Gently toss mint mixture with the melon.
Serve in tulip cups, mini trifle bowls or wine glasses. Sprinkle a tiny bit of pink Himalayan sea salt over the top if you like a little salt with your melon.
Enjoy!
~Melissa
You may enjoy these related posts: