Print Friendly Version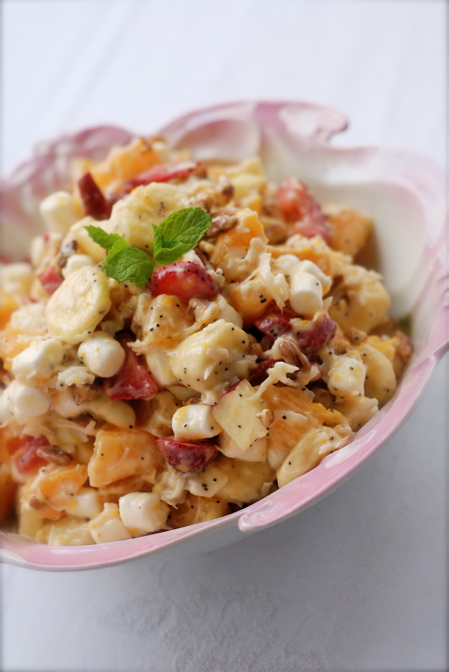 ~four seasons fruit salad ~
A lovely, delicious salad that you can make any time of the year. This is a great "use what you have" sort of a recipe. Feel free to substitute a can of drained fruit cocktail, canned peaches, or canned pineapple if you don't have a bunch of fresh fruit on hand…substitute kiwi or another berry for the strawberries…you get the idea.
In a large bowl, combine:
2 large oranges, peeled, segmented and cut into bite size pieces
2 bananas, peeled and sliced
1 large apple, cubed
1/2 cup sweetened coconut
1 cup sliced strawberries
                                                                                1 cup pineapple chunks
1 and 1/2 cups mini marshmallows
1/2 coarse chopped pecans
~ polka dot dressing ~
1 cup light mayonnaise
1/3 cup honey
zest of 1/2 orange
2 Tablespoons poppy seeds
1-2 Tablespoons apple cider vinegar
pinch of salt
Place all ingredients in a canning jar and shake to mix. Pour over fruit salad. Fold in gently. Cover tightly and refrigerate until ready to eat. Transfer to a pretty bowl and garnish with mint leaves, if desired.
Enjoy!
~Melissa
You may enjoy these related posts: