Print Friendly Version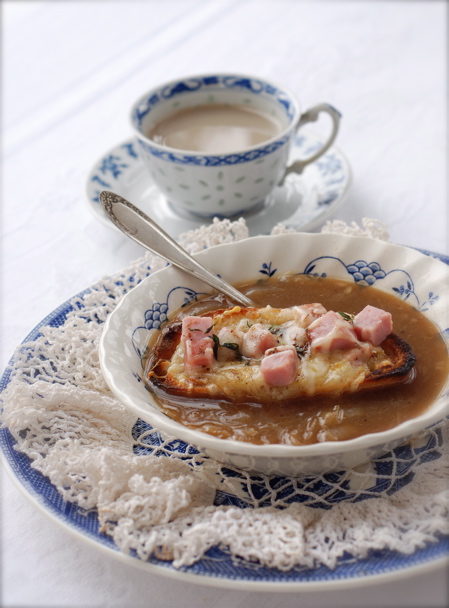 ~ brandied french onion soup ~
This is a delicious soup that is so easy to make, it's perfect for a weeknight dinner. It's also a wonderful soup to make for company because it's unique and fancy but cooks up fast so you can enjoy your guests! LOVE the easy, impressive dinner party fare!
3 Tablespoons butter
3 Tablespoons extra virgin olive oil
3 lb. sweet onions, sliced thin
5 (15 oz. cans) of beef broth
1 cup dry white wine
5 teaspoons Dijon mustard
1/4 cup brandy
salt and pepper to taste
Heat butter and olive oil in a large stock pot or Dutch oven until butter is melted. Add onions and saute over medium-high heat until the onions are browned and caramelized but not burnt. Stir frequently, about 30 minutes. Add broth, wine and Dijon mustard. Bring to a boil. Reduce heat to medium-low and simmer until flavors marry, about 15 minutes. Add brandy and simmer 3 minutes longer. Season soup with salt and pepper to taste.
~ croque monsieur croutons ~
1/2 inch-thick slices crusty, chewy country bread (I like THIS bread for this recipe)
3 cups grated gruyere or swiss cheese
2 cups coarsely chopped ham
Dijon mustard and butter
nutmeg
fresh thyme leaves
Arrange bread on baking sheet (I usually plan on about 2 open faced sandwiches per guest…this will make about 10.) Combine the butter and Dijon mustard and spread on the bread slices. Mound cheese and ham on bread, sprinkle with pepper and nutmeg. Broil until cheese melts (2 to 3 minutes). Rotate baking sheet for even cooking. Ladle soup into bowls. Garnish with the croque monsieur croutons and a sprinkle of fresh thyme leaves.
Enjoy!
~Melissa
You may enjoy these related posts: