Print Friendly Version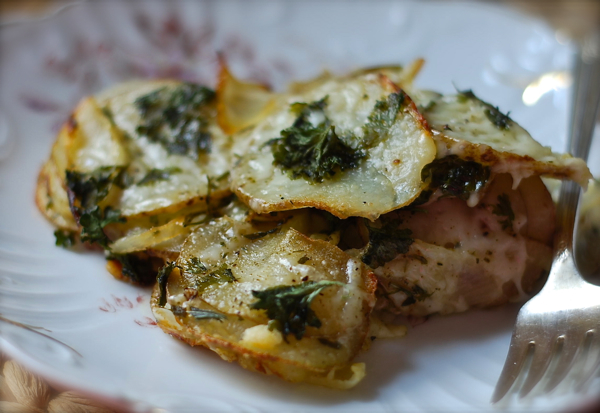 Potatoes are one of my passions. I love them almost every way. I've dedicated another blog post to a collection of mouthwatering potato recipes, and even that is just the tip of the iceberg when it comes to the myriad of ways there are to prepare the humble spud.
This is a fantastic dish to prepare when you're hosting a holiday gathering because Lyonnaise potatoes  are simple and delicious, yet fancy enough to accompany turkey, chicken, ham, pork, roast beef, duck or goose without overwhelming the flavor of the meat. Lyonnaise potatoes are a cousin to Potatoes Anna, but once you make them you'll taste the distinct difference a few key ingredients can make.
~ preheat oven to 400 degrees F. ~
2 and 1/2 lb. to 3 lb. russet potatoes, unpeeled
2 Tablespoons extra virgin olive oil (we use unfiltered)
4 yellow onions, sliced thin
3 Tablespoons fresh, minced garlic
1/2 cup unsalted sweet cream butter (we use grass-fed)
3 Tablespoons heavy cream
coarse sea salt and freshly ground black pepper to taste
1 teaspoon sugar
1/2 cup shredded sharp white cheddar cheese
1/2 cup fresh parsley leaves, coarse chopped
Using a mandolin, cut potatoes into uniform, 1/2 inch slices. Put the potato slices in a large saucepan and cover them with water. Bring water to boil and boil for 5 minutes. Drain well and set aside.
Heat a large (10 to 12 inch) skillet over medium high heat. Heat olive oil in pan. Once hot, add onions. Saute for 10 minutes, or until the onions are golden brown and caramelized. Stir in garlic and saute an additional minute. Transfer onions and garlic to a bowl. Place skillet back on burner over low heat. Melt the butter in the skillet. Pour enough of the butter into the bottom of a 9 x 13, glass baking dish to coat the surface. Add 1/3 of the potato mixture, overlapping potato slices in rows. Sprinkle with a little salt and pepper. Cover potato layer evenly with 1/2 of the onion mixture. Cover with half of the remaining potatoes. Sprinkle with salt and pepper and drizzle with cream. Layer on the rest of the onion mixture and remaining potatoes. Season with more salt and pepper and the teaspoon of sugar. Drizzle remaining butter over the top of everything, followed by the parsley. Bake for 20 minutes or until potatoes are tender, golden and slightly crisp. Sprinkle the cheddar cheese over the top during the last 5 minutes of cooking time and cook until just melted.
Enjoy!
~Melissa
You may enjoy these related posts: