Print Friendly Version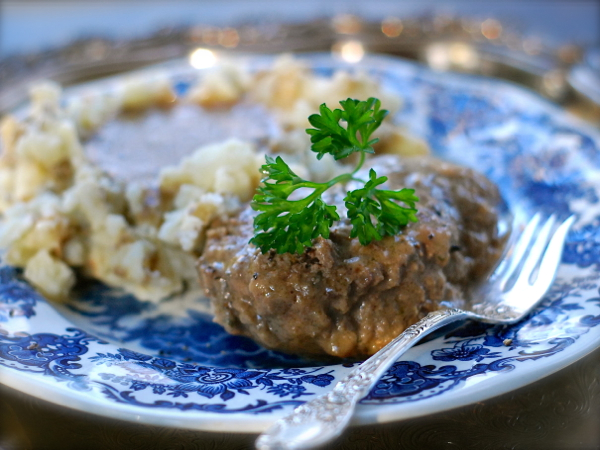 This is crazy good. It's hearty, comfort food and not something I would make every week or even every month because it's pretty heavy. It's a good "special occasion" dish and something I have to make when the craving strikes…. which seems to be every year when I flip the calendar from September to October 😉
for the steaks:
a little oil for the skillet (1 Tablespoon or so)
2 lb. ground chuck
2 large eggs, lightly beaten
1 cup Ritz cracker crumbs
1 teaspoon garlic powder
2 Tablespoons onion powder OR dry, minced onion
1 Tablespoon Worcestershire sauce
1 teaspoon freshly ground black pepper
1 small can evaporated milk
2 Tablespoons dry parsley
Heat oil in a large, heavy skillet. Using clean hands, mix up the rest of the ingredients in a big mixing bowl until all ingredients are completely and evenly incorporated. Form into 8, oval-shaped patties.
Working in batches, brown both sides of patties in skillet over medium-high heat. Once all patties are browned, transfer them to a platter while you make the gravy.
for the cream gravy:
1/4 cup olive oil or butter
1/4 cup all-purpose flour
1 (14.5 oz.) can beef broth/stock
1/4 cup red wine
1/2 cup heavy cream
salt and freshly ground pepper, to taste
Drain off any excess hamburger grease that's in the skillet… Don't wash it, just place it back on the burner with the little brown bits from the beef still in it.
Heat skillet over a medium flame. Add the oil/butter and flour. Using a wire whisk, whisk the oil and flour constantly as it bubbles and just until it turns a light golden color. Reduce heat to low and immediately add the beef broth and wine. Continue whisking constantly until your gravy thickens. When the gravy is the desired consistency, add the cream. Whisk well. Add the steaks back to the skillet (you may have to divide the steaks and gravy between two skillets so everything can cook at the same time.) Cover the skillets and turn the flames under them on very low. Allow the steaks and gravy to cook for 20 minutes or until done and completely heated through. (Use a meat thermometer to test for doneness… It's done when the interior of a patty reaches 160 degrees F.)
While the steaks are cooking, make your mushrooms:
8 to 12 oz. clean, sliced baby bella mushrooms
2 to 3 Tablespoons unsalted butter
a splash of red wine
Heat butter in a small skillet. Add mushrooms to hot butter and saute until the mushrooms have turned lightly golden and have released and re-absorbed their juices. Add a splash of red wine to pan. Continue to saute until the mushrooms become a bit sticky and have absorbed the wine.
Serve hot steaks with mashed potatoes. Top the potatoes and steaks with some of the gravy and some of the red wine mushrooms. Garnish with a parsley sprig. Serve.
Enjoy!
~Melissa
You may enjoy these related posts: