Print Friendly Version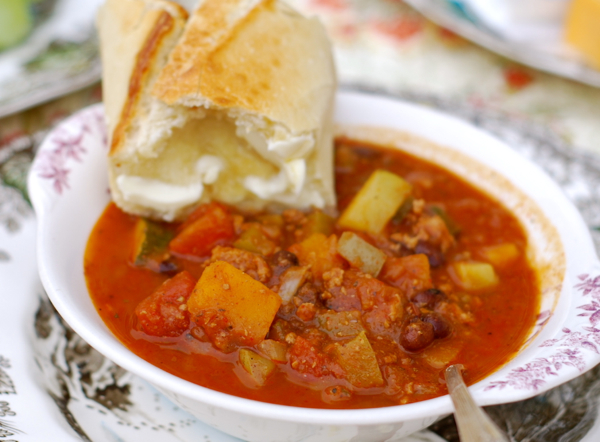 Here's a recipe for an incredibly delicious, easy and healthy chili. It features pumpkin (lots of pumpkin) but once everything is mixed in you don't really notice an overpowering, pumpkin-y flavor. If you're serving people who claim to not like pumpkin, don't even bother telling them it's in there. This is a good "fake out" dish to serve kiddos who won't eat their veggies.
Don't be intimidated by the long ingredient list. This recipe is very quick and easy to prepare.
serves 8 (or more)
1 lb. 85% lean ground turkey
1 teaspoon ground pink Himalayan sea salt (or regular salt)
1/2 teaspoon freshly ground black pepper
4 Tablespoons extra virgin olive oil
2 medium onions, diced
2 cups peeled, diced butternut squash
1 large green bell pepper, seeds and stem removed, diced
3 large garlic cloves, minced
1 jalapeno, stem removed, chopped fine
1 medium size zucchini, diced
1 (15 oz.) can pure pumpkin puree
1 (28 oz.) can crushed Roma tomatoes + juices
1 (15 oz.) can black beans, drained and rinsed well
4 cups (32 oz.) unsalted beef stock/broth
2 Tablespoons Worcestershire sauce
1 Tablespoon dry oregano
1 Tablespoon cumin
1 Tablespoon mild chili powder
1 Tablespoon smoked paprika
1 teaspoon pumpkin pie spice
1/2 teaspoon cayenne pepper (or more if you like spicy)
Brown the turkey in a skillet, breaking it up into little chunks as it cooks. Drain, mix in salt and pepper, and set aside.
Heat the olive oil in a heavy stock pot or soup pot, until shimmering. Add onion, butternut squash and green bell pepper. Saute, stirring occasionally, for 6 minutes over medium-high heat. Add garlic. Cook an additional minute. Add meat to soup pot along with the jalapeno, zucchini, pumpkin puree, tomatoes, black beans, beef stock, Worcestershire sauce, and spices. Bring to boil. Reduce heat so the chili is gently simmering. Cover pot with lid slightly askew, and simmer for 30 minutes. Stir occasionally to insure the chili isn't cooking to the bottom of the pot.
Serve with your favorite cornbread, tortilla chips or baguette. Garnish with plain greek yogurt or sour cream, chopped cilantro, and grated cheese if you wish.
Enjoy!
~Melissa
You may enjoy these related posts: