Print Friendly Version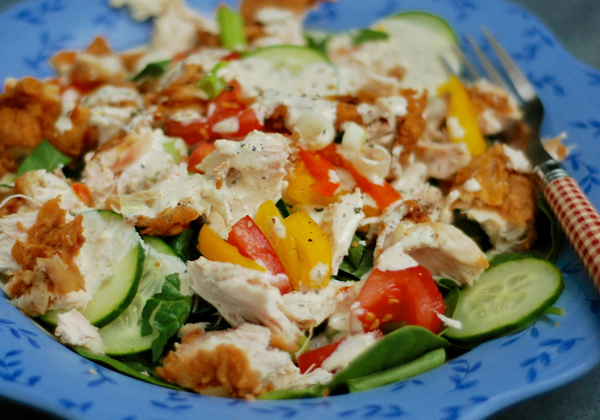 We had a bunch of leftover fried chicken from our 4th of July picnic, so I made one of our favorite salads for dinner the next day. This salad is SO freaking good! I provide a link to my favorite Creamy Parmesan Peppercorn Ranch dressing which I think makes the ultimate Fried Chicken Salad topping, but if you don't feel like making homemade dressing, your favorite bottled ranch dressing will do.
for one serving:
2 cups baby spinach or spring greens
1/4 cup chopped sweet bell pepper (I used some yellow and some orange)
1/3 cup chopped, fresh tomato
6 to 8 slices cucumber
1 sliced green onion (including green top)
1 hard boiled egg, peeled and sliced (optional)
1/4 cup shredded sharp cheddar cheese (optional)
3 slices fried, cooled, crumbled bacon (optional)
1 large, cold, fried piece of chicken, bones removed, torn into bite size pieces
1/4 cup (or more) ranch dressing (for my favorite homemade recipe click HERE)
Place everything in a large, single serving bowl in order listed. Sprinkle with sea salt and freshly ground pepper, to taste. Serve.
Enjoy!
~Melissa
You may enjoy these related posts: