Print Friendly Version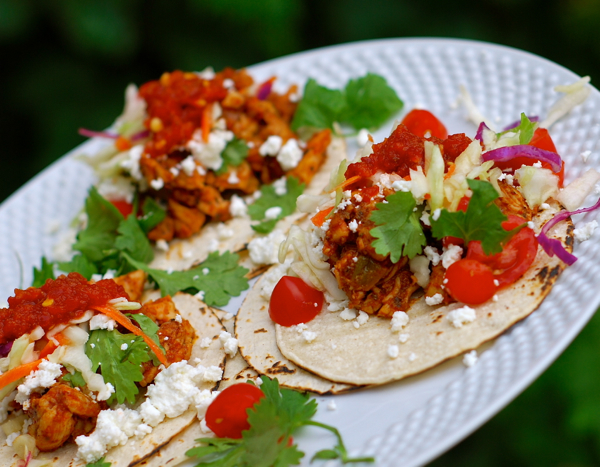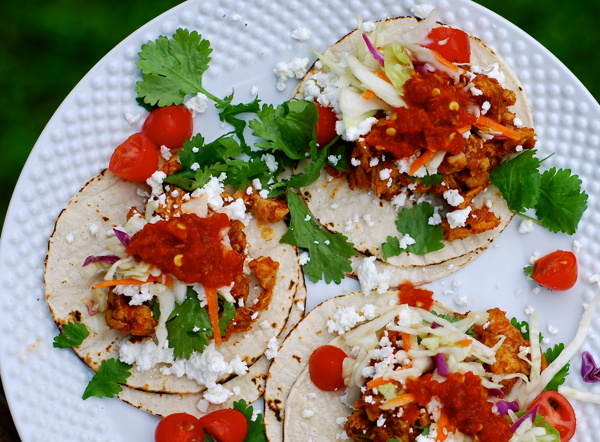 I found some adorable "street taco" sized corn tortillas next to the regular sized tortillas when I was shopping and I couldn't resist their cuteness. What I discovered, after making these tacos, is that they're the perfect party-size tacos. Street tacos are the "slider" of the taco world. Who knew?
Anyhoo, here's my easy peasy street taco recipe. I used a Crock Pot for the filling and just heated the little taco shells over a low flame on my stovetop. I doubled the tortillas so they'd be easy for my guests to handle and wouldn't collapse under the weight of the taco fillings. These were amazing, and such a fun recipe. I hope you love them as much as we do!
Note: I used chicken for my filling, but these would be just as wonderful with grilled fish, carne asada, steak, carnitas, or barbocoa!
Mexican Chipotle Chicken Street Tacos
3 to 4 lb. boneless skinless chicken thighs
2 Tablepoons smoked paprika
Rub chicken pieces with the smoked paprika. Place in slow cooker. Cook on the LOW setting for 6 to 8 hours, or the HIGH setting for 4 hours. Cook just until meat is very tender and falling apart.
Once meat is done, drain it. Discard cooking juices. Return meat to slow cooker and add:
1 large chopped onion, sauteed until tender and slightly caramelized
2 to 5 chopped chipotle peppers in Adobo sauce (to taste. these are SPICY!)
some of the Adobo sauce from the can of chipotles
1 cup fire roasted, petite diced tomatoes, drained well
sea salt and freshly ground black pepper, to taste
Cover slow cooker and keep on the LOW setting until everything is heated through.
Shred the chicken in the sauce. Place on WARM setting until ready to serve.
To serve: Heat street taco-sized soft corn tortilla shells over a low flame on a gas burner, flipping frequently until browned to your liking.
Double up the shells for easy handling and top tacos with your favorite toppings! This time we used: crumbled queso fresco, fresh cilantro leaves, chopped grape tomatoes, slaw, and sambal oelek (chili-garlic sauce.)
Enjoy!
~Melissa
You may enjoy these related posts: