Print Friendly Version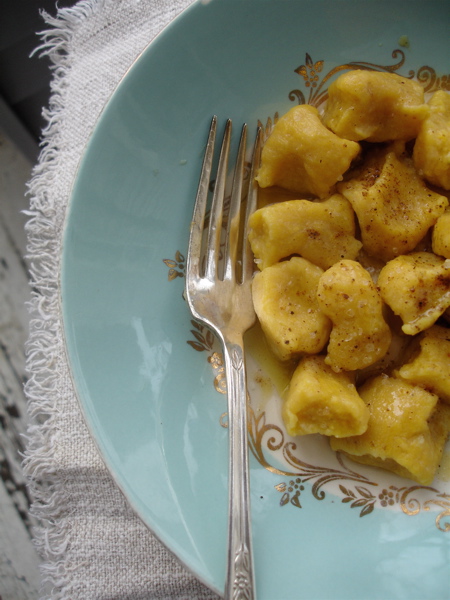 ~ butternut squash gnudi with browned sage butter ~
Since I made the gnocchi a couple weeks ago, I've been on a gnocchi/gnudi/dumpling kick. I love the versatility of these yummy little delicacies, and am having fun experimenting with different flavors and sauces. A beautiful, unique accompaniment to meat dishes, this particular gnudi recipe went amazingly well with cider caramel glazed pork tenderloin and a spring green salad dressed with sauteed apples, gorgonzola, candied pecans and a garlicky homemade balsamic vinaigrette.
You'll want to grate your cheese and make your browned sage butter in advance so you can serve the little dumplings as soon as they're done.
You can make up the dumplings in advance, cover them and cook them the next day if you wish.
for the browned sage butter:
1 or 2 sticks of unsalted butter
1 teaspoon ground sage
Place butter in a skillet and melt over medium heat until it begins to turn a light golden amber color. Skim off solids. Add sage. Mix well.
for the gnudi:
1 butternut squash, baked until very soft
2 large eggs
1 teaspoon salt,
1/2 teaspoon nutmeg
1/2 teaspoon white pepper
2 cups all-purpose flour
freshly grated Parmigiano or Romano cheese
sea salt
Bring a large pot of water to a rolling boil. While the water heats, peel the cooled squash and discard seeds. Place the squash (3-4 cups) in the bowl of a table top mixer. Using the whisk attachment, whip the squash until uniform and smooth. Add eggs, salt, nutmeg and white pepper. Mix until just combined. Add the flour one cup at a time, and using a wooden spoon, mix the dough. Add just enough flour so the dough starts to form a ball in the bottom of the bowl. Don't add it all if you don't need to. The less flour you use, the more tender your gnudi will be. On a lightly floured surface, roll the dough into thin logs (about the width of your forefinger.) Cut into 1 inch dumplings and drop into the boiling water (about 15 at a time.) Using a slotted spoon, remove the dumplings after about 45 seconds… as they float to the surface of the water. Place in a serving bowl and top with the browned sage butter and a little freshly grated Parmigiano Reggiano or Romano. Sprinkle on a little sea salt if you wish.
Enjoy!
~Melissa
You may enjoy these related posts: