Print Friendly Version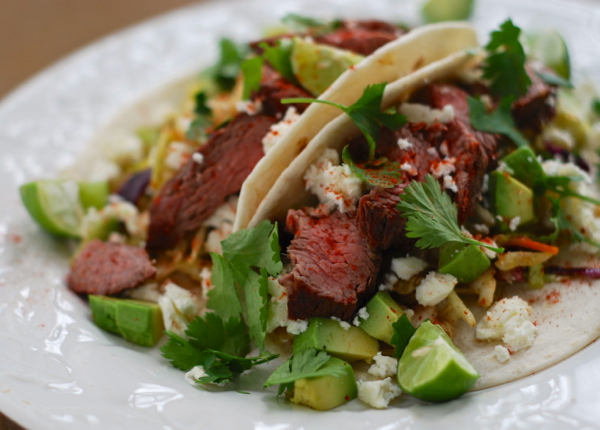 This is our favorite way to use up leftover, grilled steak but it's also a good excuse to fire up the grill. Either way, you're in for a treat! Two tacos will feed one hungry person. Double or triple the recipe as needed.
for two tacos:
2 taco-sized flour or corn tortillas
1/2 lb. lean steak, grilled to medium rare (or however you like it)
1 cup shredded cabbage
1 small clove fresh garlic, minced
1/4 teaspoon salt
2 Tablespoons chopped onion
2 Tablespoons extra virgin olive oil
1 Tablespoon white wine vinegar
1 Tablespoon sugar
1/4 teaspoon onion powder
1/2 teaspoon chili powder
1/4 teaspoon fresh ground black pepper
1/4 cup crumbled feta cheese
2 or 3 Tablespoons chopped cilantro
1/2 small avocado, peeled and chopped
lime wedges
Sriracha hot sauce (or your favorite)
sour cream or greek yogurt for topping (optional)
Combine cabbage, garlic, salt, onion, oil, vinegar, sugar, onion powder, chili powder and pepper in a medium bowl. Mix well.
Wrap tortillas in a paper towel and heat them in the microwave for about 15 seconds. Fill with some of the slaw, warm grilled steak pieces, feta, cilantro, and avocado chunks. Squeeze fresh lime juice over. Drizzle on some hot sauce, and add a dollop of sour cream/yogurt, if desired. You can certainly add other favorite taco toppings if you like… a little tomato salsa is nice on this too.
Enjoy!
~Melissa
You may enjoy these related posts: