Print Friendly Version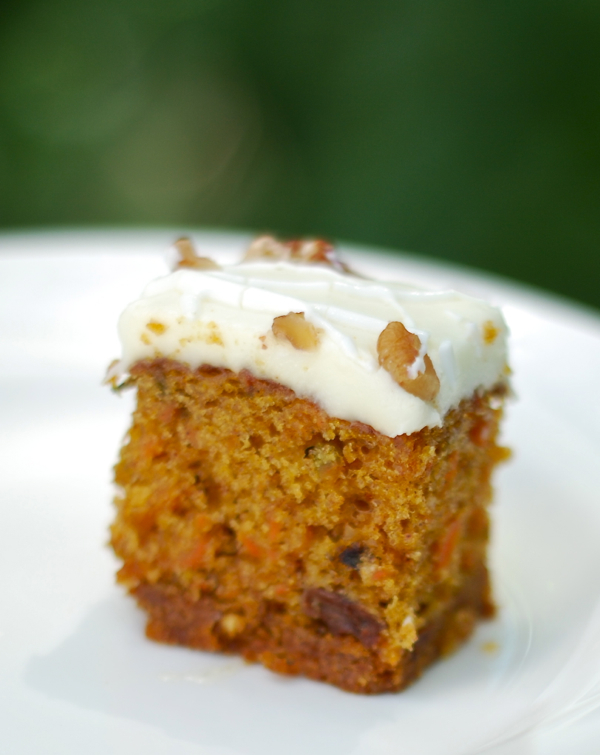 It's that time of year again. Birds are chirping, butterflies are floating from flower to flower, and May has arrived. I adore springtime tea gatherings in the garden, on the front screened-in porch, or under the little green umbrella on our deck. Nothing says spring like carrot cake, and this one is extra special because it includes a fun, "secret" ingredient that you might not expect. I make a much heartier carrot cake that includes the traditional coconut, apple, raisins and pineapple… but this one is lighter and more delicate with a delightful twist of orange. The mascarpone frosting is to die for! Try making it the next time you have company or are asked to bring something unique to a potluck. Everyone will ask you for the recipe.
for the cake:
~ preheat oven to 350 degrees F. ~
3/4 cup unsalted butter, softened
1 cup light brown sugar
3/4 cup sugar
3 large eggs, lightly beaten
11 oz. can mandarin oranges, undrained
1/4 cup baby food carrots
2 teaspoons orange zest
2 teaspoons bourbon vanilla
3 cups cake flour OR 2 and 3/4 cup all-purpose flour
2 teaspoons cinnamon
1/2 teaspoon ground ginger
1/4 teaspoon nutmeg
2 teaspoons baking soda
1/2 teaspoon salt
1/2 cup finely chopped pecans
2 cups finely grated carrots
Mix softened butter, brown sugar, sugar, and eggs in the bowl of a Kitchen Aid or other counter top mixer. Beat on medium speed, scraping bowl often, until creamy. Add undrained oranges, baby food carrots, orange zest and vanilla. Beat until evenly mixed. Turn mixer to low speed, add flour, spices, baking soda and salt. Beat until evenly mixed. Scrape bowl. Fold in pecans and grated carrots by hand. Pour into a well-buttered 9 x 13, glass cake pan. Bake 40-50 minutes, or just until a wooden skewer inserted into the center of the cake comes clean. Cool completely before frosting.
for the mascarpone frosting:
3 and 1/2 cups powdered sugar
8 oz. mascarpone cheese
2 Tablespoons butter, softened
2 teaspoons white vanilla
finely chopped pecans for topping
Mix everything, except the pecans. Beat well until smooth. Frost completely cooled cake. Sprinkle with the chopped pecans.
Enjoy!
~Melissa
You may enjoy these related posts: