Print Friendly Version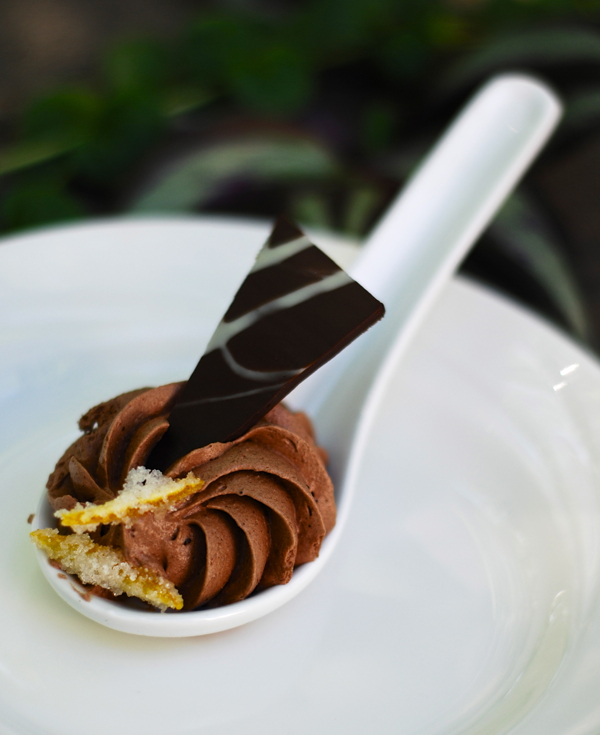 Looking for an easy, bite size dessert? You've come to the right place. I love this yummy, elegant decadence for cocktail parties and tea parties. Use Chinese soup spoons (as shown above) or pony glasses, to serve.
8 to 12 servings
1.4 oz. instant chocolate pudding mix
heavy whipping cream
artisan chocolate garnish (recipe below)
Mix pudding mix according to package directions using cream in place of the milk. Mix until firm and stiff peaks form. Transfer mousse to a cake decorating tube and place a large star tip on the end. Squirt the mousse into spoons/pony glasses.
Top with a few bits of candied orange peel and a piece of chocolate.
artisan chocolate bark:
10 oz. dark chocolate chips
10. oz white chocolate chips
Line a small baking sheet with waxed paper. Melt the dark chocolate in the top of a double boiler. Stir until smooth. Pour onto the waxed paper and use a rubber spatula to spread evenly.
In the same double boiler, melt the white chocolate until smooth. Pour white chocolate onto the center of the dark chocolate. Swirl the two together. Allow the chocolate to cool by placing the sheet in the freezer for about 10 minutes (or until hardened and set.)
Break hardened chocolate into pieces. Garnish your chocolate mousse bites. This will make more bark than you'll need for the mousse bites. This is a wonderful garnish for ice cream sundaes and fruit cups too!
Enjoy!
~Melissa
You may enjoy these related posts: