Print Friendly Version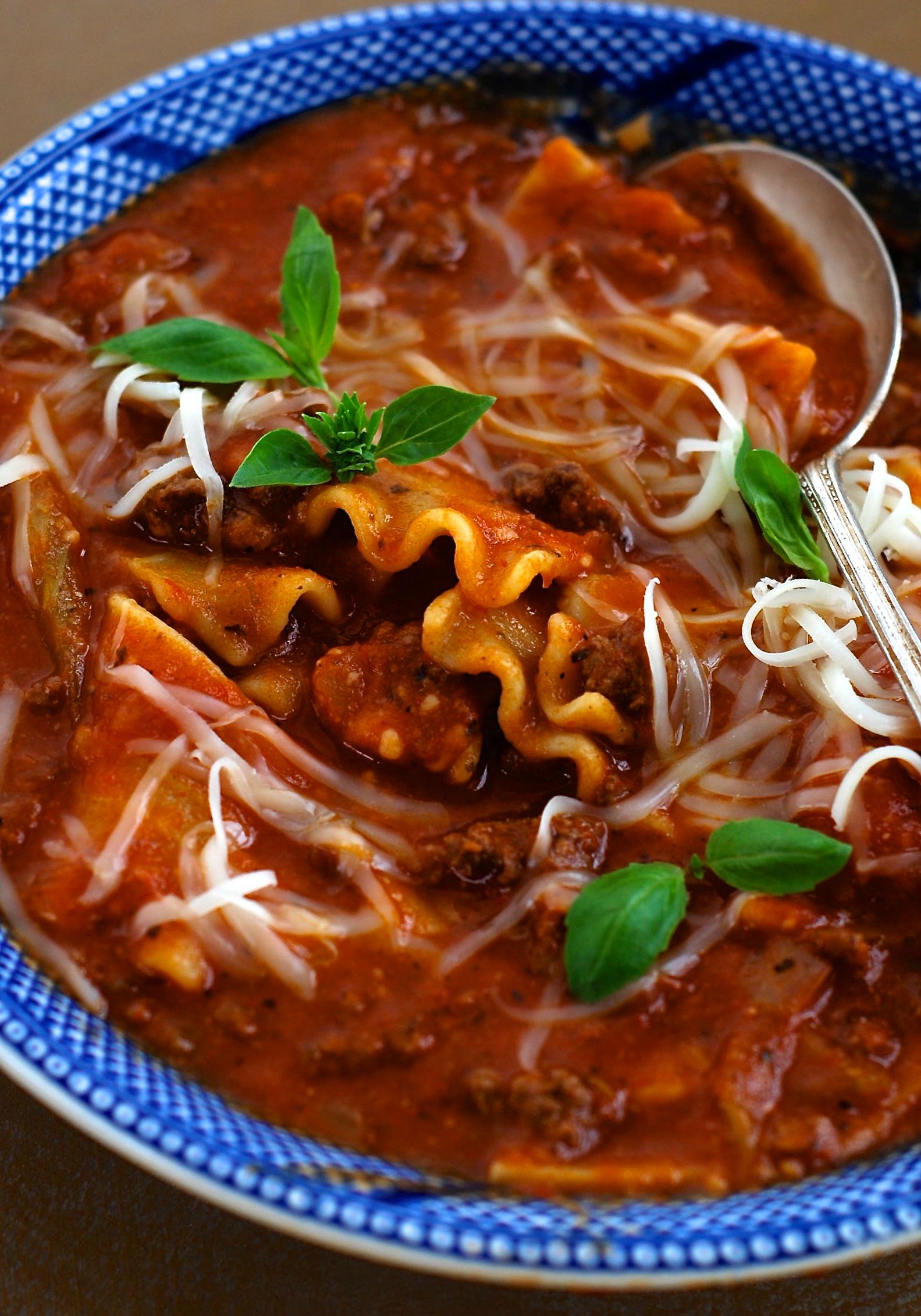 Here's a hearty soup to cook up on a chilly, rainy spring day. Perfect comfort food for when you're craving Italian fare. A yummy twist on lasagna!
(serves 6 to 8)
5 Tablespoons extra virgin olive oil, divided
1 large onion, chopped
1 medium size sweet bell pepper, any color, or 2 large sticks of celery, chopped
4 large carrots, peeled and sliced on the diagonal
1/2 cup fresh mushrooms, washed and sliced (optional)
1/4 cup chopped green or black olives (optional)
2 Tablespoons dry Italian seasoning
2 Tablespoons fennel (optional)
2 teaspoons oven roasted garlic powder
1 teaspoon onion powder
2 large cloves garlic, minced
1/4 cup dry red or white wine
32 oz. low sodium chicken or beef stock (homemade is best)
2 (24 oz.) jars of your favorite spaghetti sauce
1 lb. extra lean ground beef or bison
1 teaspoon freshly ground black pepper
salt to taste
1/4 teaspoon cayenne pepper or red pepper flakes
8 or 9 lasagna noodles (any type) broken into pieces
1/2 cup Parmesan cheese + more for topping
8 oz. shredded mozzarella cheese
fresh basil leaves for garnish
Heat 3 Tablespoons of the olive oil in a heavy bottomed stock pot. Once hot, add the onion, pepper/celery, carrots, mushrooms, olives, Italian seasoning, fennel, roasted garlic powder and onion powder. Cook over medium heat, stirring frequently, until the vegetables are tender. Add the garlic and cook an additional minute. Deglaze the pan with the wine, scraping up the brown bits at the bottom of the pan. Add stock and spaghetti sauce. Stir and reduce heat to a very low, gentle simmer. Place lid on stock pot so it's slightly askew. Stir frequently to insure the soup doesn't burn to the bottom of the pot.
In a large, heavy skillet, heat the other 2 Tablespoons of olive oil. Add the beef/ bison and break it up into bite size bits using a fork or spatula. Add pepper, salt and cayenne and cook until meat is browned and not quite cooked all the way. Add it to the soup.
While the veggies and meat are browning, you can start a big pot of water boiling for your lasagna noodle pieces. Cook them according to the package directions for al dente pasta. Once they're done, drain them well and add them to the soup along with the 1/2 cup of Parmesan. Simmer the soup just until everything is heated through (about 15 minutes.) Stir well.
Ladle into bowls and top with a sprinkle of mozzarella, a little more Parmesan and garnish with some fresh basil leaves. Serve.
Enjoy!
~Melissa
You may enjoy these related posts: