Print Friendly Version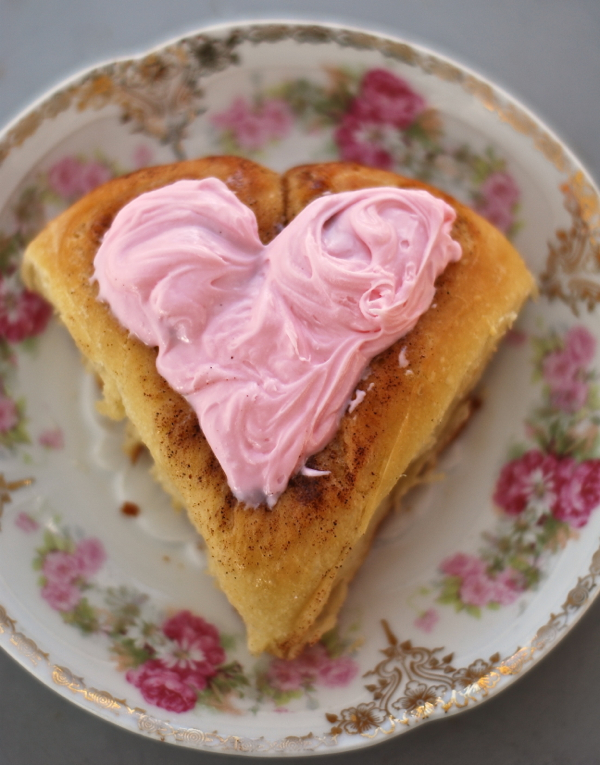 It's finally here! Day one of my "Week of Valentine Treats!" This is my third year doing this, and I have to say, it's some of the most fun I have blogging. Everyone seems to really enjoy it, which makes it even more of a delight to work on these posts. So…settle back with a cup of pink cocoa, rosepetal tea, or champagne…and enjoy this week of romance, dreams and schemes.
This particular cinnamon roll recipe is my personal favorite because they're tender, yummy and cinnamony…and you make them the day before you want to eat them, pop the rolls in the fridge and then bake them the next morning. Easy peasy!
for roll dough:
1 cup whole milk
1 packet dry active yeast (not rapid rise)
1/4 cup warm water
2 Tablespoons + 2 teaspoons sugar
2 Tablespoons + 2 teaspoons vegetable oil
1/2 Tablespoon baking powder
1 teaspoon salt
1 egg
3 and 1/2 cups all-purpose flour
for filling:
3 Tablespoons butter, very soft
1/3 cup sugar
5 teaspoons cinnamon
for frosting:
4 oz. regular cream cheese, softened
2 and 1/2 cups powdered sugar
3 and 1/2 Tablespoons whole milk
1/2 teaspoon pure vanilla extract
2 or 3 drops red food coloring
Heat milk in a glass measuring cup in the microwave until hot. Set on counter and allow milk to come back down to luke warm.
Dissolve yeast in the 1/4 cup warm water for 10 minutes.
In a large mixing bowl, combine yeast mixture, luke warm milk, sugar, oil, baking powder, salt, egg, and flour. Using a wooden spoon, mix until just combined. Turn out onto a lightly floured surface and knead for 5 minutes, or until smooth and elastic. Place dough in a buttered bowl. Cover with plastic wrap, and place in a warm place. Allow dough to rise for one to two hours (or until doubled in size.)
Once dough has doubled in size, punch it down to remove air bubbles. Place on a lightly floured surface, and roll into a rectangle (approx. 9 x 13) Spread butter evenly over the dough. Sprinkle with the cinnamon and sugar. Roll each long side towards the center so they meet in the middle. Cut log into 12 equal portions. Pinch the bottom of each roll to form a heart. Butter two round cake pans. Place six rolls in each pan. Cover and refrigerate overnight (up to 12 hours.)
The next day, remove rolls from refrigerator, keep covered, and allow to sit at room temperature for an hour. Preheat oven to 350 degrees F. Bake for 25 to 30 minutes, or until golden brown.
While the rolls are baking, make the frosting by placing all frosting ingredients in a mixing bowl and mixing until very smooth and all ingredients are evenly incorporated (you can use an electric mixer for this.) Ice rolls while they're still warm (for a glazed look) or, wait until they cool off (for a frosted look, as shown above.)
Enjoy!
Happy Valentines!
~Melissa
You may enjoy these related posts: