Print Friendly Version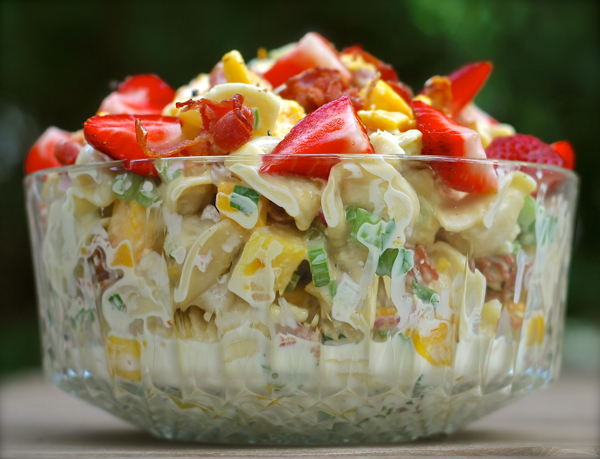 Ohmygosh! Are you ready for this awesome salad? I created this by changing up my recipe for Mango Tango Chicken Salad a bit. This has mostly the same ingredients with a few key changes that I think you're going to love. My hubby enjoyed this for part of his dinner last night, and breakfast and lunch today. I think he approves! 😉
This salad is bursting with the tropical flavors of pineapple, ginger and mango. You can add smoky bacon or ham as a protein. It's all mixed up with a dreamy, creamy dressing that offers a kick of spice from cayenne and jalapeno pepper. It's topped with fresh, sweet strawberries.  Oh, and don't forget the lovely, cheesy tortellini pasta, which is the star of the show!
serves 8 to 10 people
for the salad:
20 oz. cheese tortellini
1 lb. bacon, fried until crispy OR 2 cups fully cooked, cold ham, diced small
1 whole mango, peeled, cubed, pit discarded
3 cups fresh pineapple, cut into bite size cubes
1 cup celery, chopped
1 jalapeno pepper, seeds and stem removed, chopped fine
1/2 cup finely chopped red onion
Cook tortellini according to package directions for al dente pasta. Don't over cook the pasta. You want it to be completely cooked but a bit firm. Once cooked, gently rinse under cold water until completely chilled. Drain very well. Place in a large mixing bowl.
Fry bacon until crispy. Cool completely and crumble. Once completely cool, add it to the bowl with the pasta.
Add: mango, pineapple, celery, jalapeno, and onion. Mix gently so everything is evenly combined.
for the dressing:
1 cup mayonnaise
1/3 cup mango chutney OR orange marmalade
1/4 cup fresh ginger, peeled and finely grated
1/4 cup fresh lemon juice
1/8 teaspoon cayenne pepper (or to taste)
Mix all ingredients in a medium mixing bowl and stir until smooth, using a wire whisk. Pour dressing over salad and fold in gently, until everything is evenly combined and coated with the dressing. Take care when mixing so you don't break up the tortellini.
Transfer salad to a pretty serving bowl, and top with a bunch of fresh, quartered strawberries. Cover and refrigerate until ready to serve.
Enjoy!
~Melissa
You may enjoy these related posts: